Swim Season Trickles to an End
The women's swim season wrapped up on February 15th with their annual banquet. The girls made it to state this season with 10 swimmers, 2 in individual events. Senior swimmer Zoe Afman, who has competed for Dakota for all 4 years of high school, just signed to swim D1 for South Dakota University. Sophomore Kirsten Tarran made a personal best at state in her individual event of the 200 free with a 1:59.3. 
The season was exponentially better from beginning to end following the weekly meets.  Swimmers were seen wearing "Eat My Bubbles" (drawn on their backs with sharpie) as they dove off the block. All the swimmers cut times, improved, and created long lasting memories. They had weekly team dinners, and a lot of the seniors mentioned those times as a focal point of the season in their senior spotlight posts on the DRHS women's swimming Instagram page.
Seniors Jacob Cunningham and Owen Mossbrucker served as team managers. Both of them made sure to wear their fanny packs to swim meets acting as the "team dads" on deck.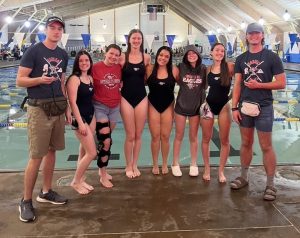 "It was a blast being team dads with Jacob, and it made me realize I could never swim a 500," Mossbrucker said. 
"This season meant a lot more than any other year because it was my last," team captain Kayla Dominguez Paris said. "I've swam for 7 years and it has really helped me through lots of challenges in my life, and I've made so many lifelong connections through this sport."
Many of the seniors this year have been swimming all 4 years of high school, and we wish them luck as they continue on to college.