DRHS Men's Basketball Team Score A Win in First State Play-Off Game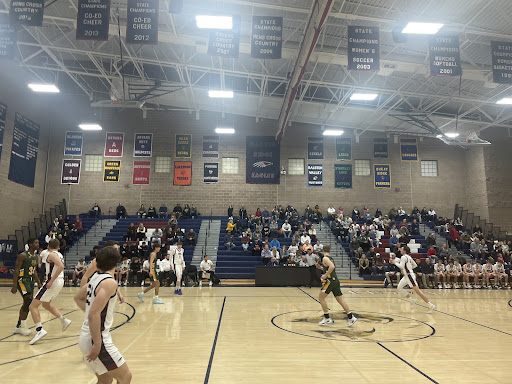 The Dakota Ridge men's basketball team played their first round of the state playoffs, earning a score of 71-30 against Pueblo County on February 22. The boys worked together for the win, and the trust that they put into each other echoed through the gym. 
"We got here because of the amount of skill we have in the team. Most importantly, though, we all have amazing chemistry and are so unselfish, leading to us always wanting each other to succeed," player Trevor Fuller said. 
According to MaxPreps, the Eagles are ranked 1st in the 5a/4a Jeffco league with an overall winning percentage of 83% (20-4).
"I am very excited for our boys. They're playing so well as a team, and I think this is their year," athletic director, Matt Heckel, said.
As the majority of the team right now is made up of seniors, it's not hard to miss that they have essentially grown up together and established trust in each other over time. 
"The team has impacted my life because I've known and played with a lot of my guys for a long time. They're like family to me. I enjoy every moment with them and can't wait for what the playoffs hold for us," player Ben Johnson said.
The team's progress has been apparent through this season.
"Some of our difficulties were working as a team, and I think in this game we were able to really work as a team and share the ball," player Gabriel Dewicki said.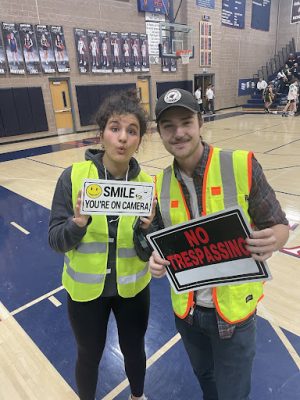 As of now, the 2022-2023 DRHS men's basketball team is ranked 21st in the state, which is the best it's been since the 2014-2015 season when they were ranked 15th.
"I want to give recognition to my coaching staff. I can't single out any single boy, they're all working hard and doing fantastic, but I would like to give a special pat on the back to our coaching staff," Heckel said. "They only get paid to do it from a short time, but they do it year round because of their passion and love for our school and our kids." 
Each game, the Dakota Ridge Eagles show up to support our men's team, dressing up for a theme and chanting as loud as possible.  This game's theme was construction, and the Eagles definitely showed up!
"It's not only to support the kids and the school and all that, but I think it's a great time to have fun, and show school spirit, and enjoy being part of something," Heckel said.
During half time, young community Eagles took the court and played basketball for the audience, showing that it's not always all competition, it's about having fun with those around you.
"The most meaningful moment to me so far this season was winning league. After our unsatisfactory first round playoff game last year, we came more prepared this year by working hard all off-season and through the season so far," Johnson said. "It was nice to see all the hard work pay off, but we aren't done yet."