Dakota Ridge Boys Basketball Team Beats D'Evelyn to Take Title of 4A/5A League Champion
While Dakota Ridge was on D'Evelyn's side of the court, sophomore Ethan Berninger played the ball in to senior Cole Holloway. Berninger, coming back into play, runs past Holloway to receive the ball once more. Dribbling down the center towards the basket, three players from the opposing team rush to defend Berninger from making a layup. With 1.5 seconds left on the clock, Berninger passes the ball to senior Alex Rodriguez to shoot a 3 pointer in the left corner of the court. The crowd burst into celebration as Rodriguez drained his only 3-pointer of the game.
"It was a roller coaster of emotions, it was a good feeling to have knowing that my teammate Ethan had enough trust in me to kick the ball out for the three," Rodriguez said. 
Wednesday February 8th, marked the day that the Dakota Ridge boys basketball team became the 4A/5A league champions as they beat D'Evelyn 65-62 with Rodriguez's game winning 3 pointer. This is the first league title the team has won since the 2014-2015 season. Prior to this game Dakota had an overall winning record of 15-4 and a record of 8-0 in league. 
"I am proud of accomplishing the league title this year. No one thought we could do it, but we did, and it means the world to us," senior Isaac Pullig said.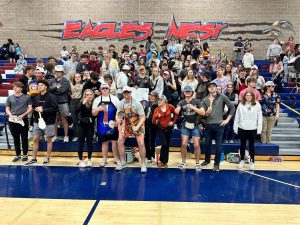 Compared to last season, with an overall record of 14-9, which is just a 61% win rate, the Eagles have shown much improvement within this season. The team's current overall record stands at 17-4, and they have more games to come in the state playoffs. 
"I am proud of how much improvement my team has made since last year, which has led us to having a good season this year," Rodriguez said.
The night was also a celebration for the senior boys and girls on the basketball teams as they are coming to a close in their high school basketball careers. The boys varsity basketball team is made up of nine seniors and one sophomore. 
"The game meant a lot because we have all been playing together for so long and are such good friends. To be able to win a league championship is really special," senior Steffen Schattinger said.
Moving forward, the boys basketball season will continue on as they go into Jeffco's end of season tournament with two games. After that they will finally head into the 5A state playoffs, which begin February 22nd. 
"Our team not only faced the adversity of losing an important player but also having D'Evelyn battle back to tie the game,"  athletic director Matt Heckel said. "I was proud of our team's resiliency to play hard and to pull out the victory under a challenging situation."