Jaguars Take the Women's Basketball League Title Beating DRHS
The Dakota Ridge womens basketball team squared off against the undefeated D'Evelyn Jaguars in a tough 4A/5A matchup on February 8th. In the first quarter both teams played aggressive defense forcing multiple turnovers by either intercepting or deflecting passes. At the end of the first quarter, Dakota Ridge was only down by 2 points with the score 8 to 10.
At the start of the second quarter, the Jaguars were able to settle down and make better decisions with their passes and started making 3-point baskets. It looked like it was going to be a runaway victory, but then the Eagles made a run of their own capped by a 3-pointer as the half-time buzzer sounded. The Eagles went into half-time with some momentum, only down 9 with the score 13 to 22.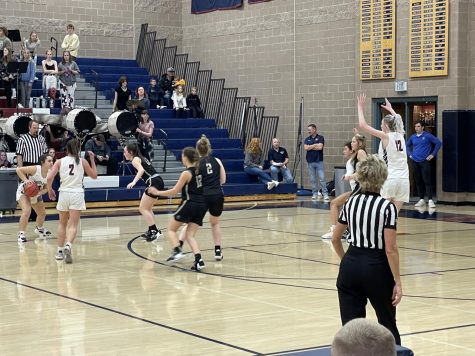 In the second half of the game, the Jaguars showed why they are undefeated as they started to run better offensive plays and move the ball more thoroughly, pulling away from Dakota Ridge. At the end of the third quarter, the score was 23 to 36 in favor of the Jaguars.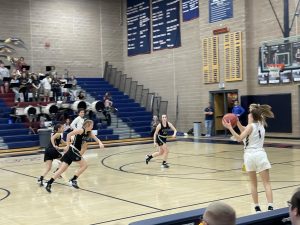 In the fourth and final quarter, the end of the game was mostly trading the ball between Jaguars, limiting Dakota Ridge's ability to cut into the lead. 
"Before the game, I felt we had prepared well and were eager for the game.  After the game, I felt that we had solid defense but offense was not in our favor.  We needed better execution," point guard Maryn Talyat said. 
It was a hard fought game and seemed closer than the final score of 31 to 45 with the D'Evelyn Jaguars winning the game and the league title with them going undefeated this season.
"I felt we could have executed better and played a little harder," Talyat said. "We knew what to do but sometimes just didn't do it.  Simple mistakes that we can easily improve on."