Farewell to Senior Swimmers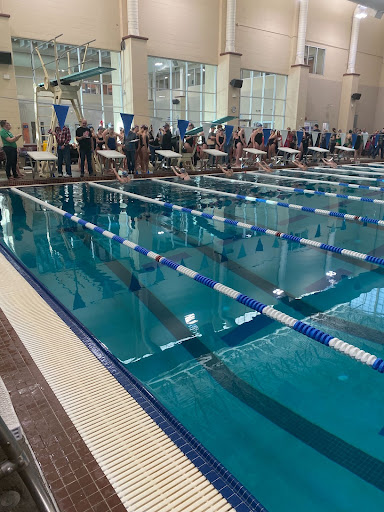 The Dakota Ridge High School girls swim team hosted their senior meet against local schools in celebration of their departing seniors on January 27th, 2023. This swim meet included swimmers for Dakota Ridge High School, D'Evelyn Jr-Sr High School, Chatfield High School, and Columbine High School. The Eagles performed well in the meet with multiple girls set to advance to the state competition in the coming weeks. 
The meet also included recognition of DRHS senior accomplishments over the past years of their participation on the team. The senior swimmers had a lot to be proud of including beating past times and improving their performance over the years. 
"I went below a minute on the 100 free which was fun," senior DRHS swimmer Eva Bennion said.
The meet was also attended by Dakota Ridge hockey players and staff members contributing to a loud and competitive atmosphere, with different chants from each high school heard around the pool.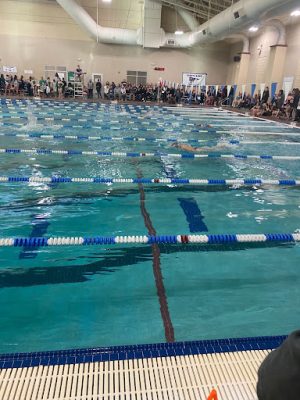 "I always enjoy swim meets. I find them really interesting. I enjoy watching the competitive spirit between the different schools and even between competing Dakota Ridge swimmers," Tiffany Briggs, Dakota Ridge High School teacher, said. 
Overall, the swim meet was a bittersweet experience for many of the senior swimmers. Swimming throughout high school brought them new friendships and communities, and created many fond memories. 
Grace Kennedy, a Dakota Ridge High School senior said, "The bond we make… like going to team dinners and cheering for other people," was the most meaningful part of her experience on the swim team, and many other seniors felt the same way. 
Many of the senior swimmers will continue to swim in the future, whether it is to stay in shape or form new bonds within the swimming community. They have forged new friendships and, of course, became better swimmers over the years. 
"I will miss just like the team and all the people on it," Bennion said, "and team dinners and stuff and all the activities."