Eagles Soar Past the Rebels to Victory
Dakota Ridge Men's Lacrosse faced off against the Columbine Rebels on April 8th at Trailblazer Stadium. The Eagles won 9-8. Both the Rebels and Eagles played hard and not a single player gave up.
The Eagles started off their game really rough. The Rebels were up 4-1 in the first half of the game. Although the Eagles were a little discouraged, they still flew for victory. 
Throughout the second half of the game, the Eagles were catching up and gaining the lead. The Eagles would eventually tie the game up. Both defenses gave up points back and forth, keeping the game tied,  with equal opportunities to win.
In the last 2 minutes of the fourth quarter, the Eagles were tied 8-8, both teams felt the heat and pressure that this game held with the two rivals going head to head trying to defeat each other. 
"It went really well. It was a very tight scoring game and a battle for the win. The best part was the final goal that Cade Oldershaw scored," junior Nick Crater said.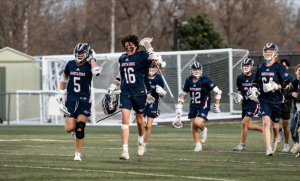 In the last 45 seconds of the game, the Eagles managed to score making the game 9-8. With little time and little opportunity for a shot, the Rebels accepted defeat. 
With 9 seconds left in the game and the final air horn, all of the Eagles soared out to the field with excitement and happiness. They had defeated one of their rivals. The crowd was also very supportive of the Eagle's win as well.
"The game was very tight, but the boys played well. Everyone was filled with excitement," sophomore Katya Kovac said. 
The Eagles advance to rank 6 in the 5A League #2 in Colorado and overall 5-1.  They play Mountain Range High School on Wednesday the 14th at Mountain Range.