Editor's Corner: March Picks of the Month
March was absolute insanity for everyone, but we hope you can enjoy these picks for the rest of your quarantine. Hang in there! 
Ella's Picks:
Favorite Song: "Little Wing" by Jimi Hendrix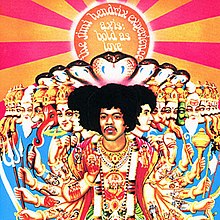 If you are an avid reader of Editor's Corner or any of my other reviews on The Cord, you'll know that I'm a huge fan of 60s and 70s music. "Little Wing" by Jimi Hendrix is another example of great music from this era, and its blues-inspired narrative weaves the concept of the divine feminine, a classic 60s-era trope that appears in much of the music from that decade. At only 2.5 minutes, this bass-heavy song intoxicates the listener with its psychedelic narratives and classic rock feel. This song was a staple on my March Spotify queue, as it seemed to fit the slow, strange mood of the month.
———————————-
Favorite Movie: The Farewell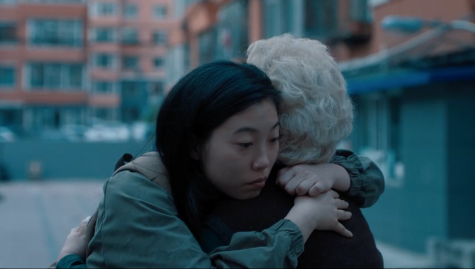 The Farewell was a movie that my family decided to watch when we had been mindlessly scrolling through the streaming services on our tv for half an hour, nothing piquing our interests. I randomly clicked on The Farewell, due to the fact that I knew its lead actress, Awkwafina, from Crazy Rich Asians, and I had seen a trailer for it a few months back. I figured it would be a sad, yet touching film about family, tinged with sarcastic humor and a feel-good ending.
This movie was far more than that.
Set in the early 2010s, director Lulu Wang tells a narrative that was similar to an experience she had faced with her family a few years before the movie came out in July of 2019. In the movie, the main character Billi, a young millennial raised in America after her and her family moved from China when she was 6, is faced with the harsh reality that her beloved grandmother Nai-Nai is dying of stage 4 lung cancer. The twist, however, is that Nai-Nai doesn't know.
Under the guise of a family wedding, Billi and her parents fly home to Changchun to see their grandmother one last time. Billi struggles to keep her grandmother convinced that nothing is going on, as she realizes that she won't be able to say goodbye to Nai-Nai the way she wants to without revealing the terrible family secret.
This film is a poignant and heart-wrenching tale of Billi's connection to her Chinese family and her American values, and its consistently-muted tone simulates the numbness felt by Billi as she is forced to adhere to the Chinese tradition of keeping a family member in the dark in regards to their medical condition, since "it isn't the cancer that kills people–it's the fear."
———————————-
Favorite Quarantine Activity: Bike Rides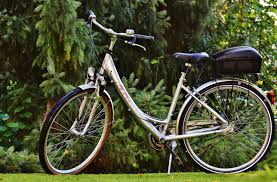 It's no new news that quarantine has pushed us into lazy, isolated holes, surrounded by piles of schoolwork and late-night Netflix binges. This lifestyle was fine for a week or so, until I started to go stir-crazy. So, I decided to dig my old purple beach cruiser bike out of the garage, and I've been going for daily bike rides with my little brother ever since.
Every day, we pick a new route, venturing past various parks and through neighborhoods adjacent to our own. During the normal school year, I don't hang out with my brother much, as we are both extremely busy with school and extra-curricular activities. Since he's pretty much the only person I get to hang out with now, we've gotten to spend some great time together, enjoying our rides every day.
Though it's not all that exciting, the cool air, warm sun, and the ability to move around somewhere other than my small suburban house feels like a treat, and it's a great reminder in these strange times to not take the little things, like the outdoors and a bright purple bike, for granted.
——————————-
Favorite Album: The Stranger by Billy Joel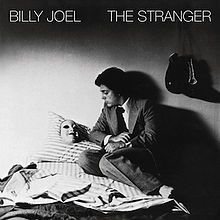 Comfort can be found in many ways–food, old movies, family, friends, and music. Usually, I feel the constant pressure to expose myself to new music, but this month, I decided to enjoy some of my old comforting favorites like one might enjoy a bowl of tomato soup on a wintery day.
Naturally, I gravitated towards one of my favorite albums of all time–Billy Joel's The Stranger. Released in 1977, this album is so classic and so defining of Joel as a musician that I am of the opinion that it is one of the best albums of all time. From "Scenes From an Italian Restaurant," to "Vienna" there isn't a single bad song on the entire album. The title track, "The Stranger," starts out with one of Joel's signature melancholy piano riffs, and surprisingly drops into a harder, more driving beat, which is a precursor for the eccentricity of the rest of the album. "Vienna" is an intrinsically pensive tune about growing up too fast to experience life, and on the other end of the stick, "Scenes from an Italian Restaurant" speaks on being too stuck in the moment that your life stops altogether. No two songs are alike, but Joel's New York-infused sense of love and life shines through each track. In short, this album is nothing shy of perfect, and it will always be one of my favorite "comfort" albums for the times when life feels out of control.
——————————-
Favorite Show: That 70's Show
For years, That 70's Show was one of those shows that I really wanted to like, but I just couldn't seem to get into. However, as a result of pure boredom, I decided to stick with it and watch a couple of episodes–and I got stuck. This show is novel in the way that it's a show set in the 70s, made in the mid-1990s, and as I watch it in the 2020s, I can't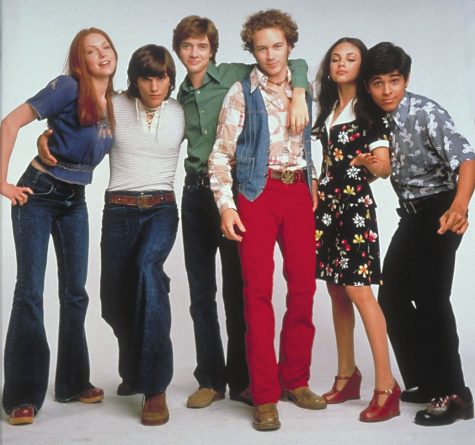 help but notice all the cultural changes between each of the eras. The way that the kids interact with their parents, their relationships, and their school lives are all in stark contrast to teenage life now, but each issue that the characters face are just as relevant as they were when the show was made. The characters are archetypical–Eric, the dorky-yet-loveable ringleader, Fez, the quirky exchange student, Jackie, the ditzy cheerleader, Kelso, her equally-ditzy boyfriend, Donna, the girl next door, and Hyde, the smart mouthed stoner. This unlikely, yet somehow all-American, group of friends navigate through their world of parties, dating, driving, and school in a classic "sitcom" way, full of drama and humor.
Since the show is set in the 70s, smoking marijuana is something that the writers of the show have the characters do, but it is never fully addressed, as substance use wasn't allowed on TV at the time of the show's creation. The use of marijuana is only hinted at by "large bags of oregano" found by Eric's mother, smoky basements, and the gang talking about life in a circle, somehow "beyond" their minds. This tongue-in-cheek humor is consistent throughout the entire show, which makes That 70s Show funny in an original, throwback way.
---
Easton's Picks: 
Favorite Song: "How Come?" by Me and that Man (feat. Corey Taylor)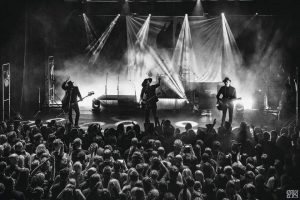 Polish frontman Adam "Nergal" Darski's forte has been blackened death metal for nearly his entire career, but when he's not with metal's most famous blasphemers, Behemoth, he's spearheading a country, blues, and folk project called Me and That Man. The latter's most recent release, New Man, New Songs, Same Sh*t, Vol. 1, features a few handfuls of rock and metal heroes on each song, helping Darski deliver a truly unique and versatile offering.
Every song from the March release seems to be totally different from the others, but "How Come?" featuring Slipknot/Stone Sour frontman Corey Taylor on lead vocals makes it easy to pick favorites. The ballad is backed by soaring classical instrumentals and heavy but stripped-down guitars that complement Taylor's gritty, defiant vocals to a hypnotizing effect. Although the lyrics take a mournful view of one's life, the song is triumphant in its pacing and delivery, with the chorus sure to be something to chant loudly in your car as you go to restock on toilet paper.
Between the melancholic vocals, folk-country instrumentation, and piercing guitar solos, "How Come?" transports me to a misty, overcast afternoon on a still lake surrounded by mountains–somewhere I think all of us would love to be at the moment. Overall, Darski and Taylor's team-up offers a relaxing yet gutsy reprieve from reality that evokes multitudes of emotion.
———————————-
Favorite Album: Underneath by Code Orange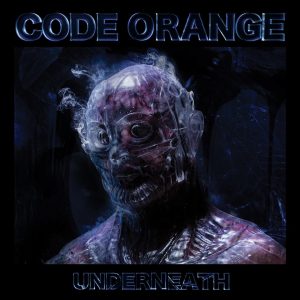 And just like that, we have a front-runner for metal album of the decade. On March 13th, Code Orange released Underneath, every music critic's favorite metal album of 2020. According to Metacritic, the album has garnered universal acclaim across 9 high-profile reviews, and I certainly don't disagree with their assessments. With their roots in the modern hardcore scene, Code Orange have incorporated countless different genres into their sonic stratosphere as they've grown up, and their follow-up to 2017's breakthrough, Forever, continues that trend–even surpassing its predecessor in many respects.
The first two songs released from Underneath are simply undeniable. "Swallowing the Rabbit Whole," the album opener, was clearly made with the intent of injuring as many people as possible. Heavy, fast, and filled with crushing tempo changes, this song is destined to open mosh pits when live shows resume sometime in the next decade. This showcase of brutality is what we've come to expect of Code Orange, but it's also what's unexpected that pushes this album over the top. The album closer, "Underneath," has catchier hooks than about every single pop song out there, but also blends aspects of their hardcore roots in to produce an anti-radio single. No song on this album is more triumphant than the title track, a few have as profound of a conclusion.
Those singles only scratch the surface of Underneath, and as the album advises, we need to "go deeper." I didn't mention the third single, "Sulfur Surrounding," until now because it's simply in a league of its own. One of the closest things to a ballad on this album, the song utilizes melodic guitar melodies and industrial heaviness along with Reba Meyers' tortured lead vocals to create something tear-jerking and downright powerful. It's the song that sates the palate of every listener, it's the song that you're going to play for someone who wants to know who Code Orange is. In addition, deeper cuts like "A Sliver" and "In Fear" showcase the band's versatility and songwriting skill in completely different ways–this album is something of a 14-trick pony.
For the sake of brevity, Underneath is a triumph. One of metal's best young bands has finally made an indelible mark on the genre, and it's safe to assume that newer bands will follow in their footsteps. Descending into the rabbit hole with Code Orange's latest release during this time-affluent quarantine will certainly be an experience you won't forget.
———————————-
Favorite Sports Moment: None, I Am Devastated and I Miss March Madness Deeply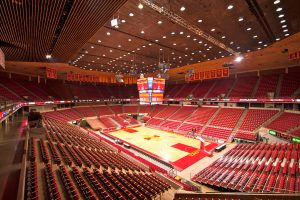 When the NFL offseason is the most exciting thing happening in the sports world, you know something has gone horribly, horribly wrong. Ever since Utah Jazz center Rudy Gobert tested positive for COVID-19 on March 12th, sports fans have been in an unending nightmare where the only relentless monster is our own creeping sense of morbid existential dread.
Okay, that might be a tad dramatic–but only a tad. For me, college basketball's annual 64-team battle for the throne, March Madness was always the usher of spring, the light in the black which made me forget about everything and scream my lungs out for colleges I didn't even know existed (talking about you, UMBC). March simply didn't feel like March without some Madness! Sports, along with Shamrock Shakes from your local McDonalds and petrichor are what makes March one of my favorite months of the year; sadly, the 2020 version is running low on all three of those gifts from heaven.
Besides March Madness, the NBA and NHL have been put on hold, and the NBA was experiencing one of its most exciting playoff races in years. While the future of those seasons remains unknown, it is important to recognize how vital sports are to our happiness (or torment). Fans definitely have it tough, but remember that athletes undoubtedly miss playing for us more than we could know; next time you're sitting in a buzzing stadium with thousands of other like-minded people or watching games religiously at home or at a bar, remember that. When sports come back, let's make sure that we give every person that helps the machine churn a heartfelt thank-you, especially the players. Without them, we'd have nothing to cheer for.
———————————-
Favorite TV Show: Dispatches from Elsewhere

When you watch Dispatches from Elsewhere, you'll be imagining a lot of characters as "you". Centered around a group of four eccentric individuals who embark on an adventure to unravel the reasons behind a massive, magical social experiment, the show experiences more twists and sharp turns than a Rocky Mountain road, and its first season hasn't even finished yet. The characters, each with their own unique fatal flaws, are brought together as they become part of a massive "game" taking place in their city. Suddenly, it becomes difficult to discern what is real and what isn't for both the characters and the viewers, and we realize that once you're in this deep, there's no going back.
Dispatches from Elsewhere is always enthralling, with a healthy mix of fantasy, reality, action, sorrow, and feel-good moments. After the first four episodes, you feel that you are a part of the team and understand each character on an emotional level–these characters are anything but one-dimensional and a breath of fresh air from the usual under-developed characters on other shows. When the narrator prompts you to imagine each one as "you," you can fully do so. Your perception of others and of the world around you will undoubtedly improve after watching this show, but if you see any dancing sasquatches, you might've let yourself fall in too deep.
———————————-
Favorite Movie: The Truman Show (1998)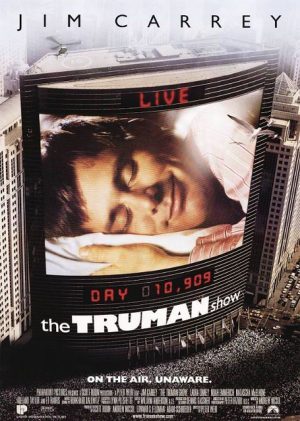 Sometimes, the world does feel like a sick joke. With COVID-19 wreaking its havoc, there haven't been many movies to see lately, so I turned to some old classics to help keep myself from lapsing into a zombie-like state. In case you haven't seen this incredibly creative journey before, The Truman Show follows a man who has lived his whole life under the illusion that he was a normal guy with a normal life. Instead, he is the biggest TV star in the world, and every second of his life has been broadcast across the globe for 30 years straight. Truman lives in the world's largest set ever created, with every single one of the townspeople being an actor. The protagonist embarks on a journey of discovery as he begins to suspect the true nature of the world; the finale will not leave you with dry eyes.
Jim Carrey manages to stay his usual absurd self while portraying moments of heartbreak and epiphany to perfection. There is not a moment that you aren't rooting for Truman to break free from his elaborate trap, yet the trap itself is extremely intriguing throughout the movie. In a time like this, The Truman Show can remind you that there is always more to life than you may think, and it reminds you that life goes on–no matter what. And since social distancing is going to be our pal for a long time, maybe this movie can inspire someone to create the most ambitious reality show of all time so we're not rewatching our favorite series 5-10 times every month. The ethics of Truman's show may be questionable, but the enjoyability of the story certainly isn't.