January 2023 Editor's Picks
The new year is in full swing, and January is already over. Our favorites from the month helped us to slow down and enjoy the start of 2023.
Hannah's Picks: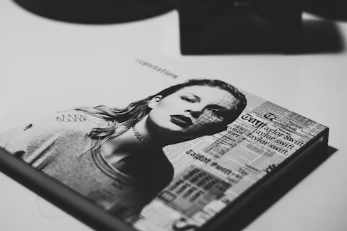 Favorite Artist: Taylor Swift
Taylor Swift has been my favorite artist for about 6 years. I gravitate towards her music because she knows how to connect with her audience while using unique lyrics. This is shown in one of my favorite songs, "My Tears Ricochet." To me this song illustrates someone building the strength to leave someone else who continually causes them pain over and over again — displaying no remorse for the other's feelings — until they realize that person is gone. This is exemplified through her lyrics, "And you can aim for my heart, go for blood / But you would still miss me in your bones." Then Swift goes on, "You had to kill me, but it killed you just the same / Cursing my name / Wishing I stayed." This isn't the only song Swift does this in, though — each of her songs shares a distinctive story putting her listeners into her own life memories. If you have never given Swift's music a chance — this is me telling you that you need to.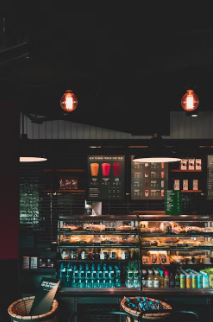 Starbucks Order: Strawberry Acai Lemonade (no inclusions) with a Sausage and Cheddar Sandwich
Fridays are reserved for Starbucks in my schedule, and every time I go, I get a Strawberry Acai Lemonade with no inclusions and a sausage sandwich. This mix together is one of my favorite things. The lemonade is extremely refreshing and sweet and the sausage sandwich is more savory; the two flavors together may seem weird, but trust me, it's delicious. The drink is the ultimate pick me up including flavors of passion fruit and acai with a balanced taste of lemonade. For me, I get this drink without the freeze dried strawberries due to the berries getting soggy in the drink. The sausage cheddar and egg sandwich includes cage free eggs, a sausage patty, and cheddar cheese, all brought together on an english muffin. This will always be my go-to order at Starbucks.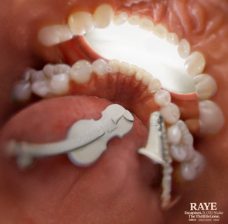 Favorite Song: "Escapism" (Sped up) by Raye & 070 Shake
"Escapism" by Raye & 070 Shake is always played when I'm getting ready for any event, driving anywhere, or at the gym. I prefer the sped up version as it comes off more as a "hype song." This song easily boosts your serotonin, making anyone happy when the beat begins. This song came out on October 14, 2022 as a part of  Raye's album, "My 21st Century Blues." I had never listened to her music before I heard this song, but I look forward to exploring more of her work. I would recommend this song to anyone who enjoys pop music with a strong bass and fun, fast lyrics. Everyone should listen to this song at least once in their lifetime.
Kassidy's Picks: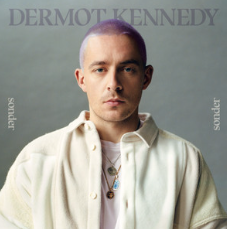 Favorite Song: "Innocence and Sadness" by Dermot Kennedy
"Innocence and Sadness" by Dermot Kennedy was released October 7th of last year. Kennedy is a 31 year old artist from County Dublin, Ireland and has made a pretty successful career for himself prior to this song and album. My favorite lines of the song are "Innocence and sadness was a fine line/ Better savor every moment as it flies by/ Every minute, boy, better live it, boy." These sets of lines are the chorus, and I think they demonstrate the message behind the song which can be interpreted as treasuring every moment you have in life because time flies by. In a separate interview Kennedy said that the song meant learning how to use his "childlike wonder" to face life's challenges while searching for true joy.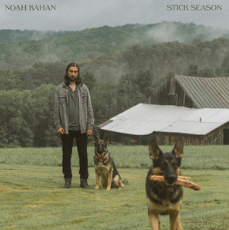 Favorite Album: Stick Season by Noah Kahan
Personally, I think this is easily one of the best albums made within the last year. Noah Kahan is a 26 year old artist from Strafford, Vermont. He has released several albums previous to Stick Season, but this album specifically blew up through TikTok with his hit song "Stick Season." Kahan started writing this album during the pandemic and stated that it was about being homesick while also being sick of home. This album encapsulates his feeling of growing up in a small town where everyone knows each other, and both the good and bad memories that rush back when he is home. Lots of people resonated with this album because of the way he articulates the feeling of loneliness and loss throughout the lyrics. Songs on the album fit into the alternative/indie-pop music genre as well as the folk genre.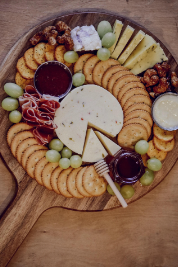 Favorite Snack: The classic charcuterie board
The charcuterie board is a classic snack that most everyone loves. The snack is very versatile — you can make one for any occasion. My favorite part about it is the fact that you can share it with others, which tends to bring people together to eat and have friendly conversations. I guess this is technically more of an appetizer, but the snack holds special meaning to me because of the memories it has created. In my family, we are big food people; at every small gathering and party we have, you will always find a charcuterie board somewhere on the table. The food just brings me happy memories because whenever I'm eating it, I'm usually surrounded by the people I love.
Bailey's Picks: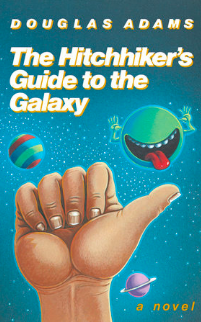 Favorite Book: The Hitchhiker's Guide to the Galaxy by Douglas Adams
The Hitchhiker's Guide to the Galaxy by Douglas Adams, published in 1979, was by far one of the best books I read in January. This book takes you from the destruction of the Earth to many other places around the galaxy, all with the purpose of describing the meaning of life. At times I considered the sanity of the author, as Adams came up with some strange ideas when writing this book, including that the earth was created by lab rats as an experiment to determine the meaning of life. While this book was wholly bizarre, it was an enjoyable read and one that I will remember for a long time. It is considered a classic for good reason.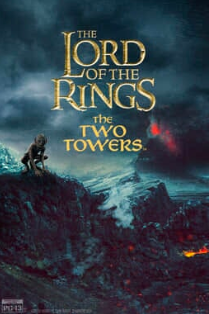 Favorite Movie: Lord of the Rings: The Two Towers
This fantastical movie, with themes of peace and environmentalism, is a must watch for any fantasy lover. Every weekend in January, I watched the Lord of the Rings trilogy at Alamo Drafthouse. All three of them were amazing, and those movies are truly made for the big screen, but Two Towers was by far my favorite. I loved the themes of environmentalism in this particular movie expressed by the storyline of Pippin, Mary, and Treebeard. This film does not have the same dark tone as The Return of the King, but it deals with the coming darkness of Saruman in a powerful and artistic manner. The messages in this movie were powerful, and the imagery on the big screen was incredibly immersive. It was a fantastic way to spend my Saturday afternoon, and it is certainly a movie I will watch again in the future.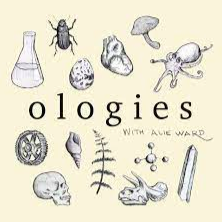 Favorite Podcast: Ologies by Allie Ward
Ologies by Allie Ward is a haven for all science lovers. This podcast covers interesting topics ranging from oreamnology, the study of mountain goats, or somnology, the study of sleep. It is done in an interview format with each respective "ologist" or expert in the topic of the episode. The episodes are equally informative and hilarious due to the dry humor of the host Allie Ward. Each episode always ends with questions submitted by the listeners which are often funnily worded, and always answered thoughtfully. This podcast has brought me so much joy through the month of January — it's my favorite brain break after a long day of classes — and I would highly recommend it to anyone who enjoys learning about new, and sometimes strange, things. 
Payton's Picks: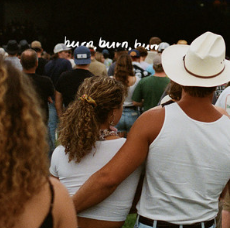 Favorite Song: "Burn, Burn, Burn" by Zach Bryan
"Burn, Burn, Burn," is the perfect song for a long car ride at night. It's a very calming song with lyrics that are relatable and make you think about life. The whole song is basically Bryan singing in a nice calm voice, but then all of a sudden he starts screaming the lyrics, and you can't help but scream with him. This is one to take time to listen to, as it is my favorite song by him. My favorite lines are, "I wanna be a child climbing trees somewhere/Breathing in the fresh outside air/And before I knew this life was unkind." Zach Bryan is a country singer who is gaining a lot of popularity, and many people love this song and the way it makes them feel.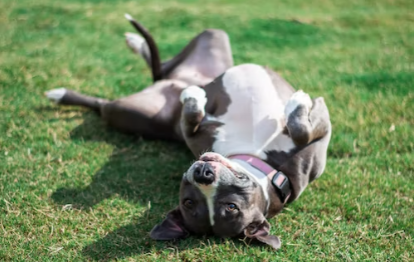 Favorite Animal: Dogs
My pick for favorite animal definitely has to be dogs. They are amazing companions, and there are very few things I love more than my dogs. Dogs truly are "a man's best friend," and I could not imagine my life without the presence of dogs. They will not judge you, and after a long hard day, you can always come home to your dogs, and it will brighten your day. The only bad thing about dogs is that they have a shorter lifespan than humans. I truly believe that all dogs are born good, and the ones that end up being bad are all the fault of the owner. We would be a less happy and compassionate society if it weren't for dogs. 
Fast Food: Chipotle
There are many good fast food places located near DRHS where students can get lunch, but the best is Chipotle. This food is very filling and for the most part pretty healthy. There are truly not many other fast food restaurants that are anything like this. There are so many different combinations you can try, but when you find the perfect combination you can really never get sick of it. The workers are, most of the time, pretty nice and work efficiently. No matter where you are in America, you can almost always count on a Chipotle not being too far away.