Editor's Corner: January Picks of the Month
January's gray freeze was lightened by our favorites, both old and new. 
Ella's Picks:
Favorite Song:  "Lost in Yesterday" by Tame Impala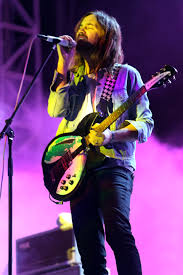 "Lost In Yesterday", a song off of  Tame Impala's third album, is another synth-pop hit in the band's classic electric-melt style. In this song, Tame Impala wrestles with the idea that nostalgia isn't always beneficial for people–rather, it can tether you to the past and force you to hold on to aspects of yourself that you've moved on from.  This song felt especially relevant in January, as the new year can often be a dive into the vast unknown when you'd rather cling to the past because it's what you know. Both the theme and the slow burning song style crafted a perfect January tune.
———————————-
Favorite Movie: Harriet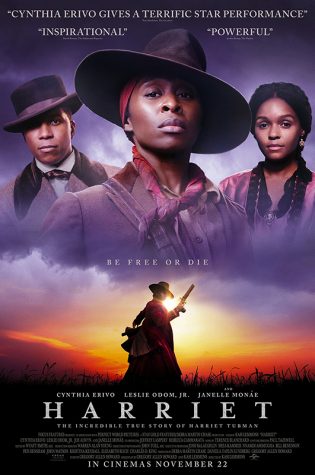 Harriet, directed by Kasi Lemmons, was by far the best movie that I watched in January of this year. Although it came out in November of 2019, I watched it for the first time in the new year. The film is cutting in message and blunt in portrayal, as the story of the famous Underground Railroad conductor Harriet Tubman is portrayed in a fresh, feministic light. The movie leaves no detail out, from the disgusting mistreatment of child slaves to the brutal beating of a women who was actually born free. Cynthia Erivo, the actress who plays Harriet herself, represents the iconic American figure with a poignant grace and accuracy, portraying her story with dignity and honor. She deserved the nomination for Best Actress for her portrayal of Harriet Tubman. Erivo also co-wrote and performed the original song from the film "Stand Up", which is a chillingly relevant song that connects to political issues of race and gender today. Though it isn't exactly a lighthearted movie by any stretch, Harriet leaves the audience with the stark message that America isn't always the land of the free for all.
———————————-
Favorite Re-Discovery: Dolly Parton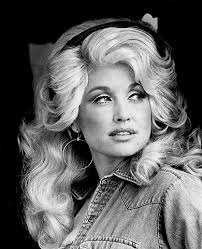 Dolly Parton, the glamorous country legend, is a true American treasure.  Since her debut album Hello, I'm Dolly, released in 1967, she's been a long standing sparkle-and-twang fixation in the world of country music. I grew up listening to everything from the Beastie Boys to The Supremes, and Dolly was definitely a huge factor in shaping my musical tastes. Whenever life gets overwhelming, I return to old, classic music, and since stress has been at a high for me lately, I've been listening to many of Dolly's old songs, such as "Coat of Many Colors", "Here You Come Again",  and "Islands in the Stream". Comparable to comfort food for the soul, these songs always bring the sweet nostalgia that's characteristic of all of Dolly's music. Dolly's also a shining example of not caring about what anyone else thinks or says, and expressing your own creativity how you see fit. She and her sunshiney country hits will forever be an integral part of who I am.
———————————-
Favorite Hatred: The Cold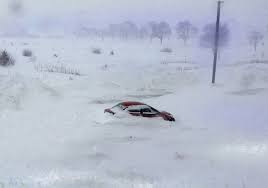 Ah, snow. As it falls from the sky and lands on the sleepy ground below, it looks as though tiny snow sprites are drifting down from the moonlit sky up above, swathing the earth in their ivory embrace. All is well as you lay down in your warm bed to sleep, comforted by the fact that the world will be a winter wonderland in the morning.
And then you wake up.
You glance outside, hoping to see the Narnia-esque dreamscape that you had been so excited for. Instead, you see a muddy, slushy, frozen-over wasteland that spans the entire neighborhood. You throw on your snow boots and 45 layers of clothing just to go out and scrape your car off to no avail and then to sit and freeze to death as you try desperately to defrost the windshield. As you sit, shivering, the cold bites through your clothing and claws at your skin with hellish fervor. No hot cup of coffee or cozy coat could take away this cold, because you know deep down that the cold won't go away for months.
When the cold and the snow begins to put a damper on your life in these nasty winter months, you fondly remember all the fun times you've had in the winter–building snowmen, sledding, and catching snowflakes on your tongue. Spring is coming soon, you remind yourself!
And then you stop and laugh at your naivety. Who are you kidding? You live in Colorado.
———————————-
Favorite Book: Vox by Christina Dalcher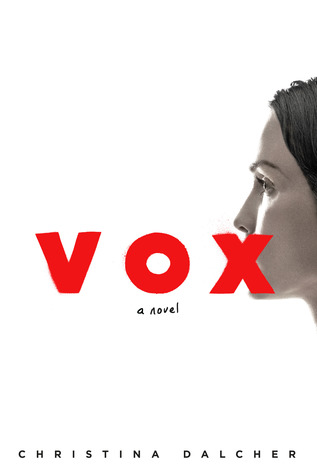 Vox is one of the most frightening books I've ever read, purely because its specific dystopian scenario could realistically occur in the modern world.
The novel's main character, Dr. Jean McClellan, lives in a world where women are only allowed 100 words a day. Go above that, and they're given a debilitating electrical shock on their wrists from a counter that they're forced to wear. Jean is removed from her job as a successful neuroscientist, and has to learn to navigate being a homemaker and raising a daughter to know her worth but still be suppressed. Jean is eventually given a neuroscience project to work on for the President, and reignites the flame she had with her Italian coworker. The entire novel is a rollercoaster of emotion–for example, you love Jean's husband, Patrick, and then you hate him in a matter of paragraphs. The novel is similar to The Handmaid's Tale in that it features the oppression of women, but this time, women are shoved back into a 1950's-style parody of domesticity and a creepily Fundamentalist society. I would highly recommend this book to those who love Margaret Atwood, dystopian novels, and a character with things worth fighting for.
———————————-
Favorite Album: The Essential Bangles by The Bangles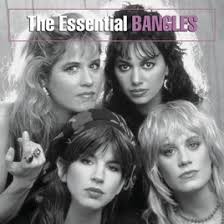 No show on this earth can be compared to Amy Sherman-Palladino's Gilmore Girls. From the time that I was little, I've loved Lorelai and Rory's quirkiness, and a huge part of who I am is styled after the way that they lived their lives–including their music tastes. The Bangles had a huge presence on the show, and their 2004 album The Essential Bangles has some of my favorite songs on it, including "Manic Monday" and "Eternal Flame". Their coffeehouse-rock style may not be for everyone, but it undoubtedly brings me back to Luke's Diner in Stars Hollow.
---
Easton's Picks: 
Favorite Song:  "Break My Baby" by KALEO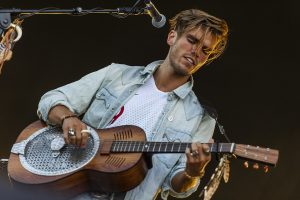 Nobody does swingin' American hard rock better than four dudes from Iceland with swagger. After not releasing new music since 2016, KALEO came roaring back from the void with a double-single, "I Want More/Break My Baby." While the first song establishes a heartfelt indie vibe, "Break My Baby" boasts sexy, booming riffs akin to the Arctic Monkeys and a chorus that showcases vocalist Jökull Júlíusson's dynamic range. Combining soothing acoustic melodies with snarling guitars and emphatic drums, the song takes the listener on a relaxing yet invigorating journey through someone's conflicted love life. 
———————————-
Favorite Album: I Disagree by Poppy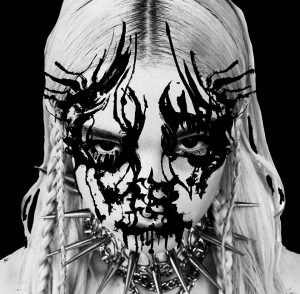 What a way to kick off a decade! One of the more daring fusions of genres in a long time, I Disagree was nothing short of a coming-out party for Poppy (real name Moriah Rose Pereira), as the experimental pop artist synthesized heavy metal, alternative pop, and electronica to create a stunningly diverse record. Though a few songs in the rest of her catalog utilize the heavy sound, I Disagree sees Poppy fully embrace it, with songs like "I Disagree" and "Concrete" just how creative and catchy heavy pop can be. And despite the focus on punishing instrumentals, Poppy's original pop style is also prominent throughout the album's 35-minute runtime on more relaxed tunes like "Nothing I Need" and "Sick of the Sun." Gems dominate the tracklist, but "I Disagree" and "Don't Go Outside" shine the brightest, perfectly fusing easy-listening elements with punishing distortion to create something truly unique. In industries where originality has been lacking, Poppy has been able to turn a stalemate into a happy marriage.
———————————-
Favorite Sports Moment: Nuggets Win a Back-to-Back Against All Odds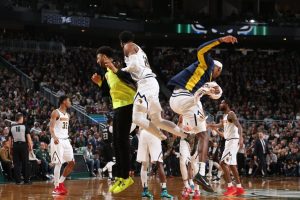 When the NBA happens to schedule you on a back-to-back where you're playing the #2 ranked team in the Western Conference followed by the best team in the league, you usually consider yourself lucky coming out with one win. On this perilous course, the Denver Nuggets didn't just nab one convincing victory, they nabbed two, astonishing even Nuggets faithful who think they'll win almost every game. Also, the Nuggets were without THREE starters and a vital bench player for both games; they had absolutely no warrant to win. But win they did, with center Nikola Jokic showcasing why he's a superstar and the bench proving its status as one of the deepest in the league. January was an up and down month for the Nuggets, but this tiny stretch made up for many of the miscues. As a result, the Nuggets are now in a prime position to begin attacking the Los Angeles Lakers in a bid to steal the #1 seed in the West.
———————————-
Favorite TV Show: The Good Place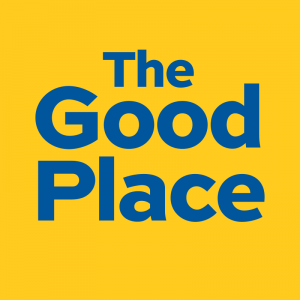 I haven't been this close to crying in months. The series finale of The Good Place was one for the ages–I won't spoil it here–but holy fork the writers ended it perfectly. Centering around four recently-deceased troubled humans, the show explores a humorous version of the afterlife where humans are either sent to the Good Place, where they spend eternity in paradise, or to the Bad Place, where they spend eternity being attacked by chainsaw bears (among other things). Eleanor Shellstrop, the protagonist, ends up in the Good Place after an untimely death, but she quickly realizes that she doesn't belong. This predicament spawns a magnificent, absurd, and hilarious storyline that never overstays its welcome over the show's four seasons. In the end, every viewer can take something real away from the transformations the characters experience, including the lesson that true content is heavenly. If you haven't watched this show yet, you'll have eternity to binge it in the afterlife, so there's really no excuses not to. 
———————————-
Favorite Video Game: Destiny 2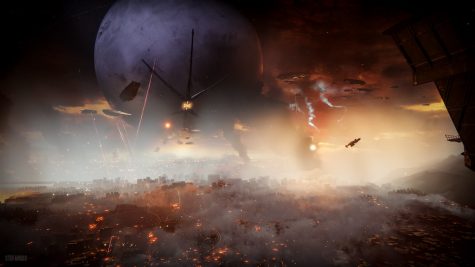 As an IB student, sometimes I need a long, thorough break from the leviathan that is school and mental stress, and Destiny 2 is my go-to when I need to put my mind in a different reality. With stunning visuals and simple gameplay, Destiny 2 is one of the best first-person shooter games out there; the quality of world-building showcased by developers and writers is out of this world. There's enough content within the game to last years for the casual player, and developer Bungie recently made the base game completely free for all to download and play in a bold move to shed the bloodsucking nature of the game industry. Now, players don't have to spend money to get ahead–but a few bucks might be required to buy some stellar cosmetics for your character. Regardless, being a Guardian against the Darkness and its hordes in the Last Safe City is ridiculous amounts of fun, and for the intellectually-minded, the game's comprehensive lore is a synthesis of fantasy, sci-fi, and philosophy. I encourage you to begin your journey to become legend, but I caution you that the addictiveness of this game is no joke. 
———————————-
Favorite Surprise: Pickup Options on Fast Food Apps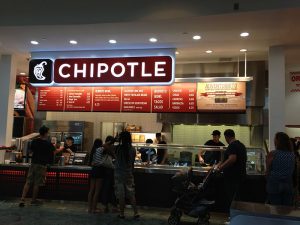 Apparently, I've been WAY out of the loop when it comes to fast-food savvy. Somehow throughout my high school life, I've missed the fact that fast-food companies have rewards apps that double as an ordering service. This is game-changing. This is the next step in teen evolution. This is how I get my food at Chipotle without waiting in a 15-minute line and lacking the time to actually eat it. If you've been wondering why you should even bother with busy overpriced food places anymore, just download the app offered by your favorite restaurant and sign up for an account for free! You can then manage your time like a general and have your food waiting for you when you walk in. As you stuff your face with generous amounts of steak and tortilla, the envious looks on all the people's faces waiting in line will truly be worth the price. I thoroughly enjoy this, and if you weren't aware of this opportunity, I highly suggest you take advantage.