Riley Henry is a sophomore on the Level 3 volleyball team wrapping up a great season. She is coming up on her 6th year playing and has persevered through the end of the season while being injured. She's shooting for JV next year.
Q: How long have you been playing volleyball?
Henry: This will be my 6th year.
Q: What do you hope for your future in volleyball?
Henry: College volleyball if I were to get there. I haven't thought about it a lot, but I would probably do club and kinda see where that takes me.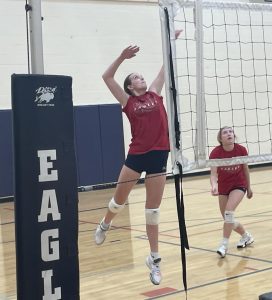 Q: How do you support your team while being injured or not able to play?
Henry: It's difficult at times. I'm still able to do some stuff but trying to go back to what I was doing before and it's hard. Not being able to participate as much and not being able to support the exact same way, but I've definitely been able to get back and play. It's just still kinda hurting and it's a drawback.
Q: What are your plans for varsity? 
Henry: I'll probably make JV next season and then varsity my senior year, just going by grade level. It's exciting knowing that you are progressing and being with the same people that I had last year and this year because you have a connection with them and want to stay with them.
 Q: Why do you love this sport and what drives your passion for it? 
Henry: The people for sure. I've just been playing for a long time, and this is what I grew up in, and some of my best friends I've made through this sport. I just like the energy and the presence of people and knowing you did well.
Q: What does your coach look for in you to be a great player?
Henry: Communication and overall connection and being a good teammate, being positive, supportive and lifting others up. It's been a couple practices and I wasn't satisfied with that hit or what I'm doing in practice. She would always tell me that it was good, and she would ask me why I'm not happy with it. I would tell her I wanted to develop it more and be better, and she would tell me that what I'm doing isn't bad, that it's great, and I should be pleased with it and be less hard on myself.
Q: How has your coach helped you become the best player you can be?
Henry: Very supportive if someone's having a rough day or not as confident. She's always there being uplifting and encouraging. When we had rough games she would say she's not mad, but she knew that we were a better team and that we played well together, and that we are a great team, and that we can always get better from each other.