Golf regionals ended in September bringing the Dakota Ridge 2023 men's golf season to an end. 
Placements for the Eagles 2023 varsity team this year include:
6th place at the West Woods tournament going 52 over

11th place in the Indian Tree tournament going 48 over

5th place at Lake Arbor going 36 over

5th place at Eagle Trace going 47 over

5th place at Broken Tee going 68 over

6th place at Applewood going 56 over

5th place at regionals going 38 over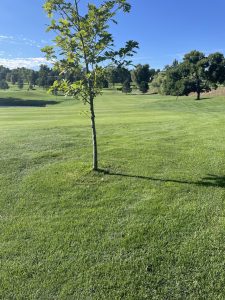 Dakota Ridge golfers competed in seven varsity tournaments and five junior varsity tournaments, along with several other nine-hole tournaments that took place at locations such as Bear Creek, Indian Tree, Applewood, Lake Arbor, and more. The varsity regionals tournament was held on September 20, 2023.
DRHS golf coaches Mr. Burke and Mr. Bartholomew worked to ensure a fun and successful year for their golfers. They made it to every tournament, scheduled tournaments, supported their golfers, and helped their golfers improve. Some of those scheduled tournaments were new to Dakota Ridge this year.
"I think the best part of the golf year was some of the amazing golf courses we got the opportunity to play at this year," Coach Burke said.
Coach Bartholomew agreed.
"We got to hit at many golf courses, such as Hiwan and Bear Creek, which we haven't gotten the opportunity to play in the past," Bartholomew said.
Golf, as well as any sport or hobby, provides important life lessons that can be applied to almost anyone's day-to-day life. Burke says golf is more than just about learning a sport.
"I think integrity is an important lesson that I have learned from years of golf, and it can be helpful for almost any aspect of my life," Burke said.
"The most important thing that golf has taught me is patience," Bartholomew said.
Even though there will be no more golf tournaments this year, the golf season is not yet over as golfers still have the end-of-the-year banquet to look forward to. This year's banquet will likely be held on October 11. The season was successful with numerous season highlights.
"The highlight of this golf year was all of my teammates that I got to play golf with," golfer Wesley Showers said.