The DRHS cross country team heads to state soon, and one of the coaches for the cross country team is Chelsea Hitzges, who has coached track and field and cross country for 12 years. 
Hitzges herself was a student at DRHS. She joined the Dakota Ridge High School cross country in her junior year. According to Hitzges, she enjoyed her time on the team, and ended up running cross country in college. Thirteen years later, she returned to Dakota as a coach.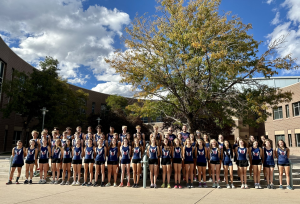 "I would say the team inspired me to want to be a coach," Hitzges said. "And my coaches inspired me. I just saw the benefits the cross country team had on myself and my friends in high school and made a lot of life-long friends."
This year, the boys team consists mostly of underclassmen, with the majority planning to come back next year. The girls team, on the other hand, has sixteen seniors graduating this spring in 2024. There is a diverse age group for the teams.
The girls team won first place in three recent races and has been doing well.
Hitzges says that every summer the team goes to a camp in July. They discuss their intentions and aspirations for the team members and their coaches. This year, the team mentioned that they wanted to find joy and enjoy running again. The team has competition goals, but collectively their universal goal is to find fun in what they do, build a positive and supportive community, and build team culture. 
"We have lots of team dinners, different activities that we do, guys team, girls team events, whole team events," Hitzges said. "Just having a group of people that you can hang out with in the school and be yourself is really important. We just love having anyone and everyone out [with us]. It's a no-cut sport, so it doesn't matter if you've never run a day in your life, we'll help you be able to run a 5k."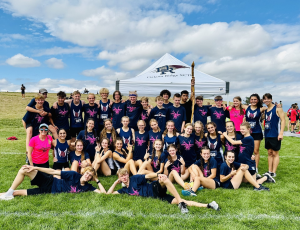 Cross-country running offers a supportive community for all ability levels, promoting mental health and a more fulfilling high school experience. 
"All people are welcome," Hitzges said. "They [say] it's good for your mental health because you have [an] automatic group of friends, keeping you accountable, and making sure that you're happy and having fun. And you have a really supportive coaching staff that will make sure you're doing well in your classes, and make sure you're having a fun high school experience."