The Chatfield High School football team has recently struck controversy, as they had to forfeit the first three games of their season due to fielding an ineligible transfer. The ineligible player is a senior receiver who played in Chatfield's first five games before being ruled ineligible, which was announced on October 4th, 2023. 
According to BMV Sports this senior receiver followed his coaches from his 7-on-7 team, and this caused his transfer to be deemed athletically motivated, which means he was ineligible for the games he played in. This case of ineligibility was self-reported by the Chatfield football team which resulted in their punishment being less severe, but the senior receiver is not the only "high-profile" transfer playing on the Chatfield football team.  
"I feel pretty negative about the whole Chatfield cheating situation. They only got a three game suspension versus a six because, on all of the articles about it, it says that they owned up to it themselves, when I heard that one of the players' dads actually was the one who reported it. But Chatfield said it came from them, which allowed them some leeway on their punishments," senior DRHS football player Jack Stewart said. 
According to multiple sources, the incident was "self-reported," but there is no reasoning as to why this information about the ineligible player has come out now and not earlier in the season. According to the Denver Post,  Chatfield's principal, John Thanos, claims that once they learned that the player was ineligible, they immediately self-reported to Jeffco Public School and CHSAA, but there have been many rumors circulating that question the logistics of this immediate self reporting.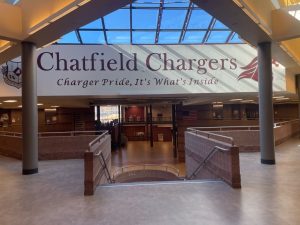 "It was a disappointing thing to hear when we all found out about the ineligible player. It sucks because they had to forfeit three games, but I do not think he was really a defining factor when it comes to the result of the game. I understand that Chatfield football does have to face some punishment for their actions, but when things like this happen with one athletics program in our school, it can have negative impacts on all of us," Chatfield senior Aly Green said. 
The ineligible player for Chatfield had to sit out in their games against Arvada West, Pomona, and Lakewood, but will be eligible to play in the final two games of their regular season. When it comes to playoffs the athlete will not be eligible to play.
"There are so many different kinds of rules with transfers and all that. I know it's only their coach's second year here, but there are other moving parts, and those other moving parts [they] should have known before. I think it sucks for the boys the most, but as a former coach, I think the program should have known, and it's on them," Dakota Ridge teacher Jennessa Horan said.
Chatfield's forfeit of their first three games has resulted in some negatives for the Dakota Ridge football team. Their new record makes the Chatfield football team seem worse than it actually is, which appears as though Dakota Ridge lost to a team with a bad record, not truly demonstrating the strength Chatfield actually has as a football program. 
"Honestly, I wasn't that surprised when I learned that Chatfield cheated," DRHS junior Cohan Goudge said. "It's definitely no fun for them or us."