Day Without Hate 2023 Begins
Day Without Hate (DWOH) week is in full swing.  DWOH is a student led organization that promotes nonviolence, unity, and respect in schools.  This year's DWOH is all about mental health and peace. 
DWOH originated after the 2007 school shootings at Virginia Tech. The students at Standley Lake High School asked that their classmates wear white to show commitment and trust to make the school a safer place. It was a success, and ever since then, students across Colorado and the nation have taken this day to reach out to others saying, "we're in this together."
DRHS has set up a week of activities to increase mental health and peace awareness.
Monday, April 24th, is Nice Notes Day. Write a kind note to your friends and teachers.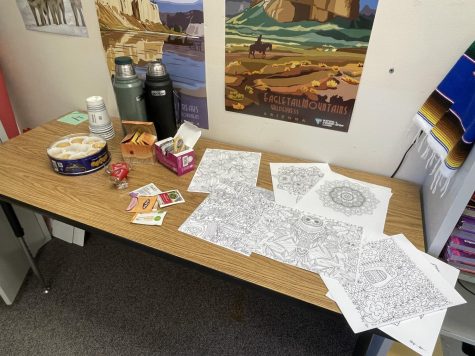 Tuesday, April 25th, is Tea Tuesday. During Seminar students can write something that causes them stress or take time to color while enjoying tea in class. 
There was going to be a Rescue Puppy Yoga in the afternoon, but all of the puppies have been adopted, so the event has been canceled.
Wednesday, April 26th, offers the Passing Period Challenges. Greet/say hi to someone during block 1. Give a high five during block 2. Compliment someone during block 3. Thank someone for something they've done during block 4. After school is the Legacy of Excellence award event for 9th-12th grade! It is at 6 p.m. at the James Jelinek Performing Arts Center in the Auditorium. 
On Thursday, April 27th, it's white out day where you can advocate for peace, nonviolence, and unity in schools and communites by wearing white to school! The annual DWOH assembly takes place during Seminar. After school at 6 p.m. is the District-wide Day Without Hate Rally at Jeffco Stadium. It is free if you are wearing a DWOH shirt from any year or $6 at the door. 
Friday, April 28th, there is no school for all Jeffco Students due to a staff development day.