Raven the Facility Dog Supports Transition Program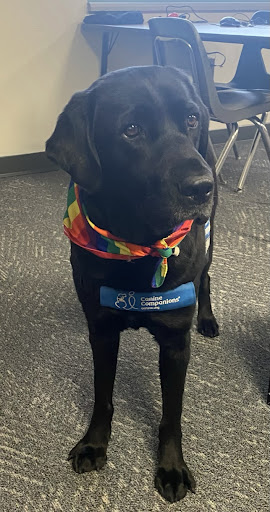 Raven walks into school every day with her little vest on and the determination to help students in any way she can. Sometimes that means being a supportive and encouraging friend, or hanging out with Mrs. Keller in the front office, but no matter where she is, she brings smiles to those around her. 
Raven is a five-year-old black lab who is a facility dog for the Transition program at Dakota Ridge High School. 
According to Canine Companions, facility dogs are used in locations like schools and healthcare facilities to help with things such as anxiety and other mental health issues. They are different from service animals as they are not assigned to a specific person. Facility dogs are trained and bred to be calm, affectionate, and reliable in order to help the development of independent living skills. 
Raven works in the community class of the Transition program, and she is trained to work with people with disabilities.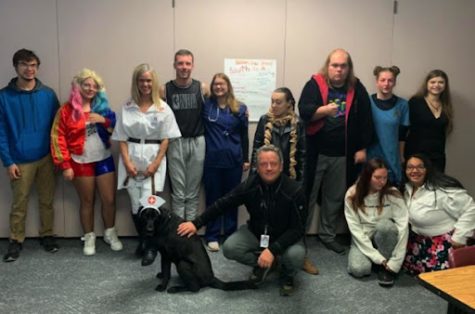 "In the community class, I have mild to moderate (independence level) students. All of our students are ages 18 to 21. We work with them on vocational skills, travel skills, independent living skills, and any post secondary goals that they have," Karen Artemis, transition program teacher and Raven's handler and owner, said. 
Since Raven is trained to help individuals with disabilities, there could not be a more perfect place for her to be. She is able to help the transition program students through hard days and more general problems like anxiety. 
"She is in the classroom to assist different students. I have seen her over the past two years … she makes some students so comfortable that they are willing to do different things if they see that Raven is going with us. She really helps with anxiety. Some students only come in sometimes just to see her… She has been really remarkable," Artemis said. 
Raven is also able to perform simple tasks like turning the pages of a book or retrieving objects for the person she is helping. But the biggest impact Raven has made is in the confidence and happiness of the students in the transition program.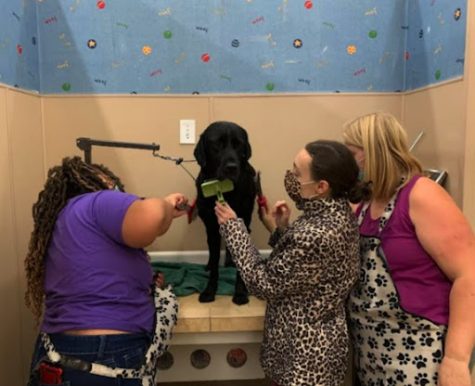 Raven was trained to help in these situations by Canine Companions, which is an organization that trains and provides service dogs and facility dogs for the people that need them most. So while Raven lives and works with Ms. Artemis, she was raised by Canine Companions and is technically owned by them as well. Raven went through multiple years of intense training through this organization before she came to Dakota Ridge. 
"It is pretty extensive training. They say it's about 55,000 dollars in training," Artemis said. 
If you are interested in interacting with Raven, it is important to follow all the procedures necessary for interacting with working animals. According to Guide Dogs of America, it is important to speak to the handler and ask permission before touching a service animal. It is also grossly inappropriate to feed a working animal or to disturb them when they are sleeping because they could still be working. A good rule of thumb is to always ask permission before approaching a service animal, and this applies to Raven as well.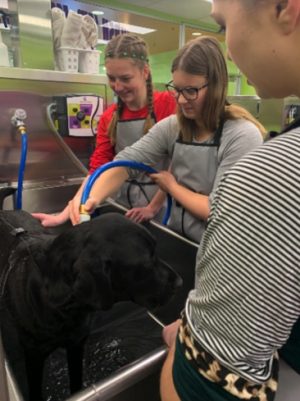 Even though Raven is a working animal, she loves all the normal dog activities. 
"She likes to sleep…She loves when we take her for a bath once a month because she gets treats afterwards. She loves the little dog ice creams… and playing fetch and going on walks," Artemis said.
Raven is loved within the school, and she can often be seen accompanying Mrs. Keller or hanging out with the people in the front office. 
"Raven is the sweetest new addition to the main office we have had all year," Peggy Cooper, athletics secretary said, "and we love her dearly."