Back to the 80s with a Ferris Bueller's Day off Review
The John Hughes 1986 film Ferris Bueller's Day Off follows the life of a high school student as he uses his crafty acting skills and witty personality to play hooky on a school day. Ferris Bueller, played by Matthew Broderick, is seeking an adventurous day when he convinces his anxious best friend, Cameron Frye (Alan Ruck), and calls his girlfriend, Sloan Peterson (Mia Sara), out of school to come along on the journey.  
Bueller describes all the ways he usually pulls off appearing sick to play hooky by doing everything from licking his hands to create a clammy hand symptom, to computer programming his keyboard to create sounds of sickness over the phone. Charm is the icing on top; his acts of kindness and care make everyone believe this fatal illness has taken over his life. 
Bueller convinces Cameron to go on this adventure. Cameron's dad leaves the family garage unlocked, which allows Bueller to practically steal Cameron's dad's 1961 Ferrari. Ferris then gets Cameron to make a fake call to the high school in order to get his girlfriend Sloan out. Cameron is then forced to hide in the back seat so the principal doesn't catch on to Bueller's plan.
For the rest of the school hours, Bueller drives the Ferrari around in the downtown Chicago area with his friends, making various pit stops, all in an effort to make his day off one to remember. Some of the locations he and his crew visit are the Willis Tower, Wrigley Field, the Art Institute of Chicago, and a city parade, which Bueller, himself, makes an appearance in. 
All throughout the day there are several people in serious concern for Bueller and his illness, but there are two people who don't believe his acts of foolishness. His principal, Ed Rooney (Jeffery Jones), and his sister, Jeanie (Jennifer Gray), are constantly trying to get Ferris caught because they don't believe he should be out doing whatever he wants while everyone else is at school.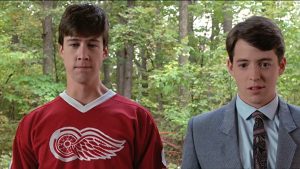 Besides the overall humor in this movie, I think my favorite part is Broderick's narration as Ferris Bueller. Broderick breaks the fourth wall by turning to the camera to make comments about events and other characters that lets the viewer in on Bueller's thoughts. I think it adds so much more to the film because it develops his character and provides a look into how he really thinks. Without this commentary, the character development for Bueller wouldn't be enough to explain his actions throughout the film.
Is the movie unrealistic? A little. But the movie's acting and spontaneous comedic moments are what make it so captivating. Out of 5 stars, I would rate this 80s classic throwback movie a 5. It simply delivers a solid and entertaining storyline that makes you realize, as Bueller says, "Life moves pretty fast, you don't stop and look around once in a while, you could miss it."