The Final Q&A With Dr. J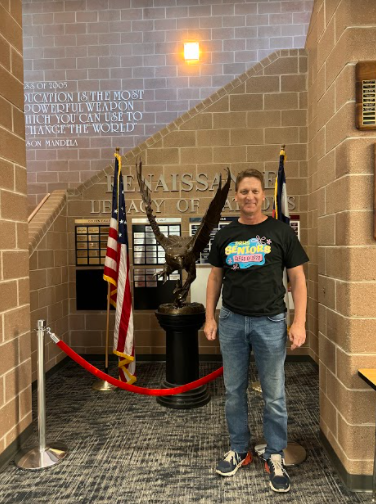 As most know, Dr. Jim Jelinek has been working as the DRHS principal for the better part of two decades. As sad as it is, Dr. Jelinek is retiring from his job as a principal. Luckily for the students, the job is going to be in the capable hands of Mrs. Kim Keller (currently an assistant principal). 
As Dr. Jelinek packs up his office and prepares it for the next principal, he answered some final questions about himself and DRHS. 
Q: What are you going to miss the most about Dakota?
A: The interactions with the students and staff for sure. I mean, that's every day, that just brings energy to me. It's more fun than any of the politics that are involved, or paperwork, or things that you do behind the desk there—it's just being able to have day-to-day conversations–enjoying the challenges that people face and the successes that people find. It's just something I'm going to absolutely miss because it's been every day for the last 32 years for me, you know? 
Q: What's your favorite part of the Dakota Ridge community?
A: I like the way that this community, when someone needs something, people rally around them. People believe in the power of the conversation. They're willing to talk. Unique in this area—you just don't find it in other places. It's unique in the south area to have healthy competition, but at the same time, we want to support one another. And I see it in our school as well. At the Accountability meeting the other night, we had a student panel talk, and they wanted to bring back some more school spirit, and our seniors, last time they saw a normal year was when they were freshmen. So trying to bring that back is gonna take a little while. I mean, the assemblies we just had [switching the seats and the Unified Basketball game], we haven't had those in a long time. It's what builds that–what does it mean to be a Dakota Ridge High School Eagle? So that part I look forward to once we hopefully pass all this COVID stuff and we can get back to what makes high school memorable and fun. 
Q: What are your favorite stories from DRHS?
A: I think my favorite stories are always when I see accomplishments from either students or staff. A couple of examples of those, we had four staff members that were highly interested in trying to figure out a way for students that were just struggling—especially upperclassmen, juniors, seniors–traditional high school just wasn't making it, and there really wasn't an option for them. Warren Tech was there as an industry standard, but you had to have a certain grade point average, and you couldn't have a deficit in grades.  We just weren't set up like we had been—some opportunities we had like 30 to 40 years ago. And so that instilled us to look around and start the power of the conversation, to talk with one another and see what could we do. What's out there? And we found Wheat Ridge High School was running an early version of what became our Career Explore. Last I heard of the 15 students, part of our Career Explore that are seniors here, 13 of them have jobs now from high school into the trades. Watching that passion grow and hearing their Capstone presentations and what they had done, how they're involved in construction, medical, or IT, or automotive, and they have these jobs in fields that are paying 15-25 dollars an hour right here from high school. And that all started from a teacher trying to find a different way. So when I see things like that, it's inspiring to me. It's what makes the job so much better. I figure my role is to provide the time for structured conversations and to try to support those initiatives that are in the best interest of all kids. We've got a great school, and most of the kids are heading off to a 2-4 year college experience, so we've got the IB path and the AP path and even general classes are college-bound classes, but how do we deal with all kids here? So when I see things like that, I just think that's what education is supposed to be all about. So I'm really proud that we have so many pathways for interest levels and aptitudes for kids here at Dakota Ridge. 
Q: Were you shocked when you found out that we named the performing arts center after you?
A: Yes, it was out of left field. I had no idea. I mean, between that and the Diversity Club with the eagle that's hanging in the cafeteria already…I'm not big on big accolades, you know, because I do believe in team, and it's us, and we collectively make this place what it is. When I say we, I mean the staff, I mean the students, I mean the community.  But it's awful special when you get something like that. It means something that the 17 years I've spent here, we've created that vision for kids—especially in the performing arts, which I just adore. I wish I could sing. I wish I could act. I wish I could play an instrument.  Those are things that are just beyond me, and I have such high regard/respect for those that are talented in that way. Supporting them is easy for me, so it's an incredible honor to have that kind of named… after me, I guess…it's something that will stick with me for a long time.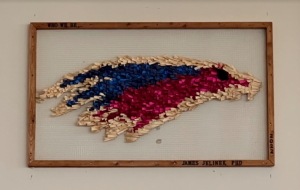 Q: Do you think you're going to come back?
A: Oh, for sure! Colorado is where I was born, and I graduated from Arvada West, you know, in Jefferson County, and raised my kids here, and will come back. I mean, obviously, I'm looking forward to traveling and doing some things like that. But Jeffco, especially Dakota Ridge, will always be home to me. Absolutely I'll come back and visit and say hi to folks. It'd be nice—I won't have to turn on the computer and answer any emails. 
Q: What are you most excited about with retirement?
A: A lot of people ask me that. I think I just need to pause and reflect for a while. You know, I've been, the last 32 years, in the same pattern of being in education. I have a family that are educators, a daughter that's an educator, so it's been my entire world. I'll continue to do education, but it probably will be, at least in the short term, the scuba diving instructing will be something I'll continue to do and do more of. It was fun to, over the last couple of years, work with Mr. Burke's Marine Biology classes and teach some of those kids how to enjoy breathing underwater and scuba diving a little bit. So I'll do that and definitely travel, I definitely wanna travel some. Yeah, I don't know, we'll see. I'll get the first few months, but it'll be weird in August because I won't be doing what I've done for the last three decades. Yeah, I don't know what I'll do. Just going to take it day by day and see what happens.
Dr. Jelinek is moving onto the next chapter of his life, but will forever live in the hearts and memories of any student who went to DRHS. He has truly personified the DRHS motto: Live, love, learn, and leave a legacy.