Apple TV's "Finch" is One of Tom Hanks' Best
Set many years into the future, in a post apocalyptic solar-flare torn-earth, Tom Hanks as Finch has one thing he values in his chaotic world: his dog Goodyear. A heart-wrenching movie with each aspect of drama, comedy, and fear explored, this movie is yet another successful production for Apple TV. 
Released on November 5, 2021, only available for audiences on Apple TV+ (Apple's premium movie streaming service),  Miguel Sapochnik, a British filmmaker and Primetime Emmy Award winner for Outstanding Directing For a Drama Series, is the lead director for this film, with his past guaranteeing a dramatic aspect to "Finch."
This movie explores the realm of truly beautiful relationships, especially with the characters in the movie placed in such a vulnerable situation. The tone is unmatched in terms of their companionship and bond developed throughout the film. 
As Finch, Goodyear, and their new robot companion Jeff travel to San Francisco to avoid a super-storm, they encounter all types of challenges surely to keep you stuck in your seat, including tornadoes, intense sunlight radiation, and other survivors.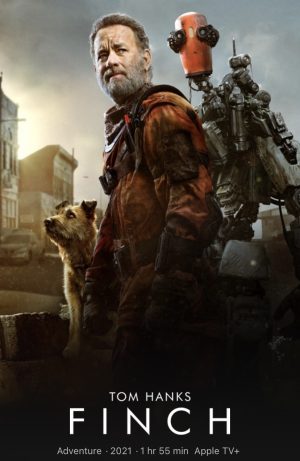 "Finch", a PG-13 rated film, is somewhat slow moving, so it is best suited for a more mature audience. Don't get me wrong, the movie holds plenty of emotion-filled and suspenseful moments, but the 115 minute run-time may seem too long for younger viewers.
This film perfectly suits Tom Hanks' style of acting. Specific scenes in the movie truly showcase his ability to portray such intense emotion to the audience without saying a thing. The struggles Hanks endures, the connection with Goodyear, and his overall outlook on such a dreadful situation constantly preaches the idea that it is possible to be grateful for your surroundings and to be grateful for those around you, no matter what.
The positive perspective that Finch and Goodyear share, contrasted with the barren and scarred earth, consistently iterates the variability in terms of emotion in the movie. One moment the audience is jumping for joy, and the next moment tears are running down their faces. During an interview with "ComingSoon.Net" Hanks spoke about how he believes the variability in emotions can be found everywhere.
"I think in every comedy I've done, there have been serious moments. And in every serious moment in a movie I've done, there have been some comedic moments. That's the way life is," Hanks said.
As the film industry slowly recovers from the COVID-19 pandemic, movies are beginning to be released as normal. The film "Finch" truly encapsulates what a fundamentally sound movie is, thus earning 5 stars.