What to Expect at DIA This Holiday Season
A review of recent holiday travel at DIA.
Like many families, I spent my break on a vacation. I flew from Denver to Cabo San Lucas, Mexico on Saturday morning, November 20th.
The Denver International Airport (DIA) is always full around the holiday season. This is why there are a total of 23 airlines that go through DIA, including United, Frontier, Southwest, Air Canada, Copa, Delta, British Airways, Jet Blue, and Lufthansa Airlines. Having such a large number of airlines can be confusing and chaotic around the holidays. Luckily, the DIA website outlines a brief summary of the layout and tips for new travelers.
DIA has six levels in the building. Levels 1-3 are used mostly for parking garages and economy lots. Level 4 also has parking garages but is where one will get picked up. Level 5 includes drop-offs from Uber, Lyft, etc., as well as the baggage claim and south and north security checkpoints. Level 6 is where passengers are dropped off. They then see the check-in, food court, and a bridge leading to one of three concourses — concourse A. Concourse A has 51 gates for its arrivals and departures from airlines including American Airlines, Delta Airlines, and Frontier Airlines. To get to Concourse A, locate the bridge on level 6 or the Automated Guideway Transit System (AGTS). There is also Concourse B which has 70 gates for departures and arrivals from United Airlines. Concourse B is also reachable via the AGTS or through Concourse A. Concourse C has 29 gates that have arrivals and departures from Southwest Airlines. Unlike Concourse B, the AGTS is the only way to get to Concourse C.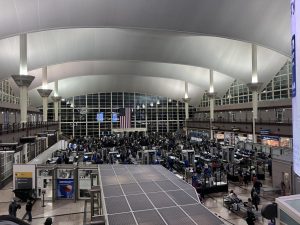 DIA workers recommend that passengers arrive two hours prior to a national departure (three for an international departure) and that drop-offs happen only on level 6, pick-ups on level 4, and ride-hailing on level 5, to keep the order.
Airport staff handled the chaotically stressed crowd well. They kept everything organized, and staff members, called the "DEN Ambassadors" (people in blue vests with a badge), patiently answered any questions passengers had. There were signs clearly stating where passengers should go.
The workers at the security gates were very efficient. The A Bridge Security only took 20 minutes when I was there around 8:30 a.m. The DIA baggage claim was also a quick and easy experience, taking about 15-20 minutes.
On the other hand, due to the high levels of stress, many people were in a rush or rude when walking around. Despite the best efforts of the staff, wait lines were extremely long.
I got in line at Einstein Bros. Bagels around 8:50 a.m. and got my food at 9:20 a.m., 30 minutes later. A similar situation happened when I went to get Starbucks around 9:30 a.m. — the line took 40 minutes to get through. Luckily, the food is of high quality. It doesn't feel like the workers just threw the food into a microwave and served it, the food tasted fresh.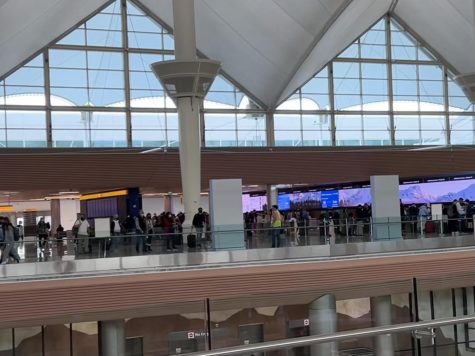 Stress and long lines are a common occurrence around the holiday season, yet the workers kept a smile on their faces and served everyone well.
During the holiday season many people are traveling to see their family and friends, creating a busy environment in DIA. Although the airport experience may take longer than normal, staff members have been able to keep the organization that is so desperately needed during the winter.
If you're traveling this holiday season, get to the airport early, and treat the workers well.  Keep the stress levels down. And don't forget to appreciate the decorations around the airport!