Dakota Ridge High School Teacher Featured In Meow Wolf Denver Exhibit
Denver's newest immersive art experience, Meow Wolf Denver – Convergence Station, officially opened to the public on Friday, September 17th. This will be Meow Wolf's third permanent installation, with others including Omega Mart in Las Vegas, Nevada, and the original exhibit, House of Eternal Return, in Santa Fe, New Mexico. 
Pamela Webb, one of the artists featured at Meow Wolf Denver, is also a Dakota Ridge High School visual arts teacher. She and other artists, including Andrew Novick and Rob Ayala, worked together to create a nod to old Denver locations. 
"We basically recreated signs or parts of signs that symbolized places that used to be open in Denver but are no longer there," Webb said. "One of the places was Celebrity Sports Center, we did one for the Denver Drum Stick, we did one for Cinder Alley."
Webb's signs took ideas and inspiration from iconic old Denver places and turned them into a memorable gesture to what once was. In one of her favorite pieces, she explained that her inspiration for the sign of the Denver Drum Stick included a vintage toy train that would drive through each of the dining rooms, passing through a little mouse hole. 
"We added a vintage toy train to the top of the sign, so it was kind of like a little easter egg," Webb said.
Despite her achievements in creating art for the newest Meow Wolf Denver exhibit, it was a lengthy and difficult process. 
Creating and installing her pieces in the museum took Webb over three years, with two months dedicated to creating these pieces. She began in the winter of 2019, after much legal work —  researching and contacting old businesses to see if she could use their company names to create her pieces.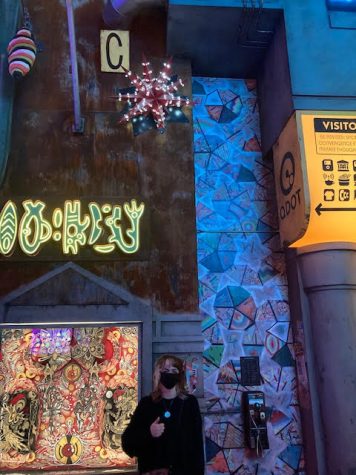 This included the process it took for her and others to create these pieces. One of the pieces that took longest to create was the 40 inch wide, geometric twenty-point star inspired by Celebrity Sports Center.
 Webb explained the difficulties of certain requirements given by the exhibit. One of the requirements was that she could not use flammable materials such as acrylic. Instead, she had to create her own bulbs to attach into the piece. With this process, she had to learn to blow glass and create over 120 individual bulbs to attach to the star. 
"To make this 3-D star thing there was gonna be a lot of math, and a lot of trial and error," Webb said. "When you're cutting steel and welding steel together, you want to know exactly what size you're cutting so you're not doing it over and over again." 
Meow Wolf  Denver – Convergence Station features many artists who were able to create one of the most creative art exhibits in Denver. It is a truly unique experience filled with out-of-the-box art styles and a once in a lifetime experience. 
If you would like to visit the museum and see some of the local artists, such as Pamela Webb, you can visit the museum website at https://tickets.meowwolf.com/denver/ and purchase tickets online. There is limited availability due to Covid-19, so it is recommended to buy in advance.