Dress Code Debate Results in Student Survey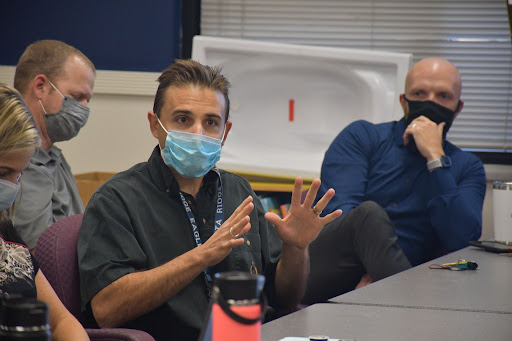 Dakota Ridge administration and staff members met with student representatives to discuss the dress code during a morning meeting on September 16.  The current policies at DRHS have caused some students to question the rules. Multiple protest posters about what some students describe as the over-sexualization of the old dress code popped up around the school during the first few weeks of the semester.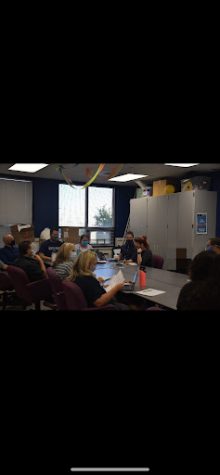 At the end of the meeting, a survey was created to gather student feedback on the dress code and some of its phrasing. It will be released this week. 
In general, school administration believes that the dress code is fair to students. They claim that the rules are in place to keep the focus on education, keep students safe, and keep the school professional. 
However, the meeting allowed students and staff to consider other points of view and possible changes to the policy as it's currently stated.  Staff members shared their own opinions and concerns throughout the discussion, ultimately leading to administration's approval to create the student survey.
"[The dress code] sets the environment, sets a tone, makes a statement," science teacher Dave Long said. 
As mentioned by staff members in the room, there is an unspoken dress code almost everywhere. 
"The conversation I have with students is some day when they're in a work place there's going to be requirements for what they wear. We all know that you wouldn't show up to a funeral in your swimsuit," English teacher, Aerin Bender said. 
One issue that came up in the meeting is that many students might not understand what the dress code actually allows. Bra straps are often cited by students as a violation.  But teachers in the meeting clarified that they do not care about seeing bra straps. According to most of the female teachers, it's nearly impossible to hide straps when wearing a tank top, and administration noted that seeing a strap is not, in actuality, a violation
When asked about the possible dress code bias among genders, assistant principal Kim Keller stated that the dress code applied to both girls and boys. Many boys had been sent to the office because of sagging pants or wearing muscle shirts as well as the girls seen for bare midriffs. 
However, many students, and some teachers, believe that there is a bias towards girls in the dress code. They feel as though the dress code predominantly targets girls by making them cover up. In the previous dress code, no tank tops or shorts were allowed because they were considered a "distraction." 
"I do think that there are more (rules) that apply to girls, and again the thing that we go back to is the disruptive educational environment. If a girl's shoulders are showing, who is being disrupted? They [girls] are certainly not," Bender said.
There does seem to be a miscommunication in the dress code. Many students have been dress-coded or still cover up their shoulders. The dress code does not say that a student cannot wear a tank top or shorts; that rule was removed a few years ago. Despite that, students were frustrated because of the heat, yet still had to wear a jacket or some form of cover over their tank tops. 
"We can't control, like, when we go to Walmart, it's hot. We can't control that it's going to be hot and we always have to cover up. I wore a blue tank top… because I was going to Walmart and it's hot, some boys do stare at me and see my strap and they'll say something," a student in the meeting said.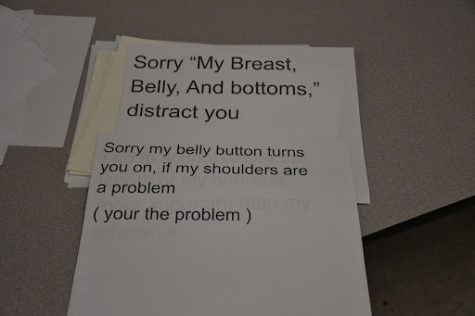 The school's main rule with dress code prohibits offensive images or language, along with crop tops. 
Charlotte McGregor, a sophomore at DRHS, believes crop tops should be allowed. 
 "If they're (other students) distracted, then that's their issue," McGregor said.
As one teacher in the meeting noted, when families go back-to-school shopping for their students who identify as female, they begin to notice that it's nearly impossible to find shirts that aren't cropped. Most shirts will expose at least an inch of the stomach. 
"We just need what's realistic and what's obnoxious because they're gonna see them (crop tops) the second they go to lunch, they're gonna see them right after school, they're gonna see them at the parties," PE teacher Amy Ziegler said. 
Other students, like freshman Patrick Betts, also think the dress code is too strict and sexualizing.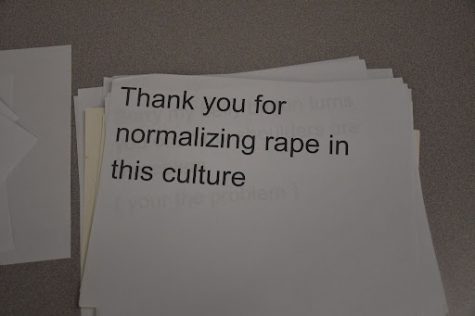 "We need to teach people not to be sexually attracted to these types of things, like shoulders," Betts said.
On the other hand, science teacher Christopher Rozelle believes that there is no bias in the dress code.
"I think it's a fair compromise. It's not a uniform where every student looks exactly the same. You still have an opportunity to express your individualism," Rozelle said.
Other teachers agree. 
"Where we draw the line, I don't think there is a fairness issue. I think all of our dress code policies are gender-neutral, even though they may affect some people more than others," engineering teacher Christopher Gray said.
There is a line that can't be crossed in the dress code, which is showing any genitalia, but to Betts and many others, shoulders and stomachs are something that should be allowed. 
"What's so sexual about our bra strap or our stomach?" said a student. 
Spanish teacher Rachel Watson is more neutral about the matter, but mainly believes that most dress codes are biased in and out of schools. 
"I will always uphold the dress code in my classroom, Watson said.  "That being said, I think usually when dress codes are created, they often have a bias against girls and women. That includes in schools and out of schools." 
Dress code is a complex issue, but what it comes down to is what the school can actually control.
"Two things we can really control, what the dress code policy is and how we can enforce it," Gray said.
This brings up the problem with consistency. Some teachers do enforce the dress code while others don't. According to a few male teachers in last week's meeting, they said they chose not to enforce the female dress code to avoid unnecessary drama. 
"Male teachers are not going to enforce female dress code because they get accused of sexualizing, or whatever it is, so we just avoid doing it," Gray said.
The issue is also complex because it's difficult to know how to classify certain items of clothing as distractions. 
"Guys, it's not physics. You can't measure it like you can physics, so I can have my high school class, you know, prove gravity really nicely in half a class. You can't look at a dress code and say, okay, a belly button is 3 points, that will distract 5.7% of the boys for five minutes here, their test scores will go down this much. It's not measurable like that," Long said.
The dress code means more than just a few clothing rules to some.  There are those who also feel it leads to treating women like objects and that it can coincide with rape culture mentality by forcing women to cover up. 
"I realize that you can over-classify this, analyze it, theroize it, but I'm trying to grasp this in my mind. So, how much value is it to try to, as much as possible, distill more of the correlation of this? Because I'm hearing a couple different things. Is it a gender equality issue? In other words, is the dress code just a symptom, or valve for anger, or frustration bubbling up, that really doesn't have as much to do with the dress code?" Long said.
Many of the posters that were used in the DRHS anonymous protest included themes of teaching boys not to objectify and sexualize women because of what they're wearing, which is fairly present in social protests. 
"I think that's kind of what I'm seeing in these signs too. Where it's talking about, are these things that still need to be in the dress code? Is this really disrupting the learning, if that's what we're saying is kind of our core thing that we care about. And then also, obviously, echoing the sign of the times, having women be able to have ownership over their own bodies, I think is something that is echoing too," digital librarian Mallory Goetz said.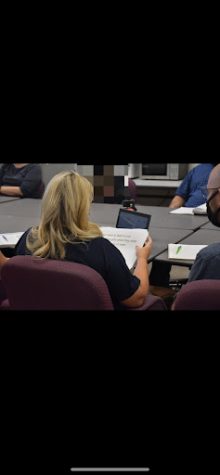 Some staff members feel as though the girls in the school are being limited in their self expression due to the dress code. They believe that by telling girls to cover up and giving them restrictions, it stops them from being their truest selves. 
"A lot of times, and I'm speaking only because I have two children here, girls feel that they're not welcome as themselves, or the full expression of themselves, when they're shut down as to what they can wear. And that affects their academic achievement, and they will distract boys.  Why, then, are we not teaching boys to not be distracted?" Bender said.
 Teachers in the meeting did say they want to see the dress code simplified so it doesn't take away from learning. The only problem is trying to accommodate both the students' and teachers' needs. 
 "I want this simplified so I don't have to deal with this during class. That's my goal here, you know. Figure out the system so that a teacher doesn't have to address the way that kids are dressed during class," Gray said.
Dr. Jelinek, the school's principal, wants students to know that if they want to come to him with a complaint about the dress code, he will be asking what the reasoning behind changing the dress code is and how it would improve a student's education. 
"What does wearing a hat, what does wearing a sexually suggestive piece of clothing, what impact does that have positively on learning?" Dr. Jelinek said. "If you can't answer that, then I have a tough time approving that."
If a DRHS student disagrees with the dress code or notices something they believe to be unfair during or after school hours, administrators are open for conversation. They only request that you bring an open mind and understand that they might not agree. 
"Obviously we hear you," Ziegler said, "because we're already having this conversation of, can we change a little bit of the language."