The Dakota Ridge Screamin' Eagles Marching Band, consisting of brass, woodwinds, percussion, and color guard, has had an outstanding season this year that started in August and wrapped up with the Eagles placing third at regionals, moving them on to compete at state on October 27 at The United States Air Force Academy. The Eagles competed at Colorado Band Association (CBA) along with other high schools in Colorado.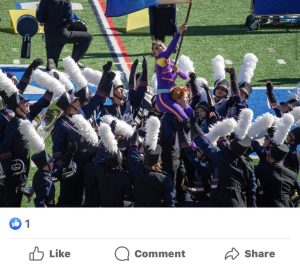 Many members of the marching band are sad to see the season end because they love the community so much.
"(It's) the best community in Dakota Ridge…really wonderful and supportive," junior Raven Meyers said. 
Band director Dylan Ford was pleased with the season's outcome.
"I am so proud of 'Our Little Band' continuing to work together," Ford said.  
The Eagles ended up placing tenth in the state of Colorado after qualifying for the semifinals and beating Columbine in the 4A Colorado Band Association rankings after the finals were canceled due to the snow. 
"The students are doing the right work and are moving things in the right direction as we continue to recover, grow, and set new goals as a band," Ford said.
Now that the marching band season has ended, some band members will move on to pep band and winter percussion.