Mt. Evans Name Change Deferred
The controversial U.S. Board on Geographic Names vote to change the name of Mt. Evans to Mt. Blue Sky was deferred with no explanation on March 9, 2023. It is still undetermined whether it will be delayed or dismissed.  
The 14,000 ft. Mt. Evans was originally named Mt. Rosalie and was summited for the first known time in 1863 by Albert Bierstadt. According to Fs.usda.gov, Bierstadt originally named the peak after his wife-to-be, but it was officially named Mt. Evans in 1895.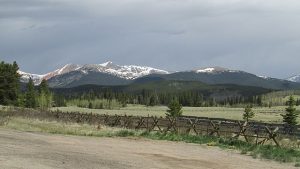 Public opinion was split on the necessity of the name change. According to CBSNews, the the mountain is named after the second territorial governor of Colorado, John Evans. Towards the end of his term, he was eventually pushed out of office over his connections to the Sandy Creek massacre, a genocide of Cheyenne and Arapaho native Americans in 1864. 
Many were torn on this issue.
"I don't believe we should have these statues, these monuments, named after and honoring people who were a part of singling out or putting down a certain group of people," principal Kim Keller said. "I would say I'm for the name change in spirit of sparking education about people who have done things wrong in the past. The knowledge is what is useful. There is good that comes from it because there is an awareness to be gained about history." 
Science teacher Pat Burke's view differs.
"Officially, I think the name should stay. It's Mt. Evans, that's what we know it as, and we can bring attention to the atrocities of the Sand Creek massacre and things other ways," Burke said. "I'm kinda split. I think we're changing too many things in this country for the wrong reasons in terms of names. I'm not sure it's the way to get the right message across, so in a way I'm kind of against it. Obviously I'm not a big fan of Evans because of the massacre, but we don't really know his exact role in the massacre. I don't think changing the name will change anyone's beliefs on the topic. Instead, I feel like it's just hiding the fact that the massacre occurred in the first place." 
Students also see the situation from varying perspectives.
"I feel like changing the name can't change the name, but it is a name that everyone knows, and it would be a bit of an inconvenience to change it, because most people nowadays don't have any idea what the name is correlated with or who Evans was," senior Cassidy Ellis said.
"I don't think it changes much to change the name, but at the same time it would make the people who were affected by him (Evans)…finally receive peace," senior Izzy Lockhart said
It is still uncertain whether the vote will happen to rename Mt. Evans, but it is important to highlight some other places in recent history where the names of things have been changed. 
During the pandemic, the previously named Washington Redskins came under fire over their NFL name and changed it to The Washington Football Team, until last year, when they were officially renamed The Washington Commanders. Many had very strong feelings about this, similar to the changing of Mt. Evans, and in the past few years, people have been active about the political correctness of any terms they are using.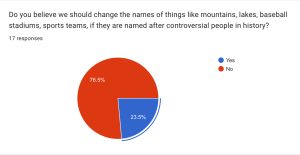 Names of establishments have also been affected for a number of reasons in recent times. Usually it has to do with someone who's actions are no longer supported by society. In 2017, USC Film School removed Brian Singer's name from six programs after sexual assault allegations surfaced. The Museum of Man in San Diego changed its name in 2020 to The Museum of Us to remove gender stereotypes.