Capitol Riots One Year Later: Where are We Now?
A little more than a year has passed since the attack on the United States Capitol on January 6, 2021. Hundreds of former President Donald Trump supporters stormed the Capitol causing widespread havoc across the nation. This raid threatened the country's peaceful transition of power, and on this day many political leaders were evacuated. Since these attacks, many people of the United States are demanding justice be served, and the guilty to be held accountable.
The attacks on the Capitol caused approximately $1.5 million worth of damages and approximately 140 officers were assaulted in the attacks, according to The United States Attorney's Office District of Columbia. These riots left many people in shock and wanting to see the defendants charged to the fullest extent. Investigations on the riots are still in progress, even a year later, but as of now, more than 725 defendants have been arrested for their actions on January 6, 2021.
In a post made by Glenn Kessler in The Washington Post, Judge Patricia Millett, US Court of Appeals said, "The events of January 6, 2021, marked the most significant assault on the Capitol since the War of 1812." 
Of the defendants arrested for the Capitol riots, 640 have been charged with entering or remaining in a restricted federal building or grounds. More than 225 people have been charged with assaulting, resisting or impeding officers or employees, and approximately 165 have pled guilty to their charges. Four people face statutory maximums of 20 years or more, also with potential financial penalties. 
A lot of the blame of the events that took place at the Capitol has fallen on former President Donald Trump. This blame has not only been placed by President Joe Biden and his supporters, but also by former President Donald Trump supporters, and even some of the rioters.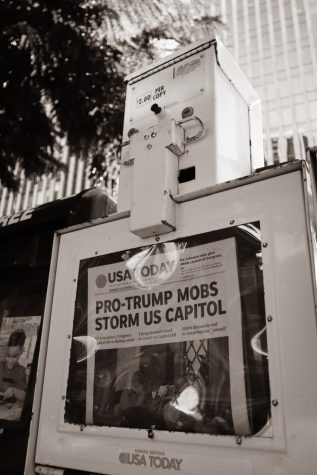 An article by Amanda Macias in CNBC quotes Former Secretary of Defense, James Mattis, who said, "Our Constitution and our Republic will overcome this stain and We the People will come together again in out never-ending effort to form a more perfect Union, while Trump will deservedly be left a man without a country."
Since January 6, 2021, some mindsets have been changed, yet some remain the same. The Capitol riots opened the door to take steps towards normalizing political figures speaking out about what is right even though it may be against their political parties. Some Trump supporters had still not fully accepted the results of the election and hold the same mindset they did a year ago. The riots at the Capitol have displayed the opportunities for Americans to fight for a better and more peaceful future while also learning from the past.