Speakers Share Their Experiences At Veterans Day Assembly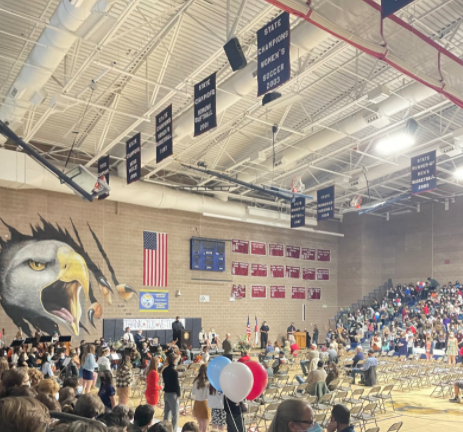 Every year, the Dakota Ridge Veterans Day assembly allows students and staff to honor those who fought for our country, and it provides a way to connect with veterans in our community. The assembly was held on November 11 and included guest speakers from the student body and community. 
DRHS senior Oscar Bender-Stone spoke through his own experiences with his great grandfather, Donald Ditzler. Bender-Stone says his great grandfather inspired him.
 "What inspires me the most is he served his country and made it a part of his life by keeping these stories, and I feel honored to pass along these stories to other people so that they remember every contribution of every soldier," Bender-Stone said.
In addition to Bender-Stone, community member Lieutenant Joseph Guerra spoke about his own experiences serving in the military.
"Being a military veteran is in my DNA at this point.  I couldn't remove it if I wanted to.  Whether it comes out strongly or subtly, everyone who deals with me has to deal with it," Guerra said.
 Guerra also provided memorable advice.  "Care for those around you more than yourself and you'll never be alone, and someone will always have your back.  You can be pretty brave when you know you don't have to face life's challenges alone," Guerra said.
During the assembly, Dakota Ridge honored teachers and administrators that have once served in the military. 
"Veteran's Day is vital to celebrate in order to remember and maintain the military history that has enabled us to live the amazingly blessed lives we live today," English teacher Jason Casanova said.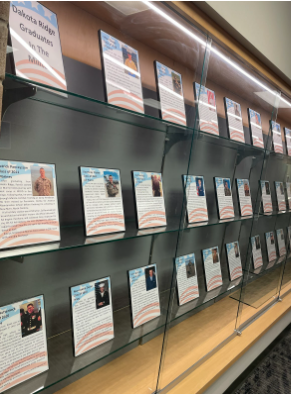 "You gotta keep the history of the military whether you believe it or not, whether you agree with it or not, it is a part of our culture, it's still part of the history of the United States," school resource officer Deputy David Bruening said.
Students and staff were touched by the assembly.
 "In general, this assembly helps me understand the true gravity of Veterans Day. As students, we aren't able to completely comprehend the importance of veterans until we are spoken to by one. With that being said, the veterans in this assembly have struck my emotions and given me true insight into the hardships of veterans and what they experience to protect our country," Cadence Stubblefield (11) said.
Dakota Ridge recently installed a new showcase honoring former students who are now serving, or have served, in the military. This is also intended to inspire others who want to go into the military after they graduate. It is a way to keep our school veterans close while caring for them from a distance.
Veterans Day helps to shape our community and helps many to be brave through the stories of former soldiers.   As the assembly reminded those in attendance — thank a veteran today.