Michael Dougherty has spent the last seven years building schedules for the teachers and students of Dakota Ridge High School. Dougherty works with teachers and departments to create schedules that encompass the current class preferences of the student body. In other words, spring is a busy time for Mr. Dougherty.
Q: What is your favorite part about your position at Dakota Ridge? 
A: It's almost like one big puzzle. It's different every year, so there might be some years where you guys, as students, want more psychology classes than sociology classes, or more marine classes than forensics. There's a ripple effect as to what happens after that with who teaches what and how many classes of each we have. It's nice that it doesn't ever get boring; it's a pretty difficult task. It takes a while, a good portion of second semester, but it helps when we have really good teachers and counselors and admin who can help me complete the jigsaw puzzle as needed. It's challenging work, which is why I think I enjoy it. 
Q: What is your least favorite part about your position?
A: Probably discipline. Obviously, most of us that work in education enjoy kids and understand that sometimes kids make poor decisions. But the last thing I want to do is be in control of who gets tickets or who gets suspensions. It's an important job but one I don't like because it always entails tough conversations with parents or grandparents. So, yeah, don't love being the bad guy.
Q: What was your job before working at Dakota Ridge?
A: I taught. I was a teacher for about ten years in Aurora Public Schools at a school called Vista Peak. 
Q: What did you teach?
A: Business and marketing classes. So like the Caliga of this building. 
Q: What made you switch to working in administration?
A: I actually went to high school at Dakota Ridge. I got a call from an old friend, Mr. Cummings, like seven or eight years ago. He told me that a job was opening, and they normally don't have a lot of admin openings at Dakota, and to give it a shot, so I did. That's what got me here. The rest is history. 
Q: If given the chance, would you teach business and marketing again?
A: Yeah, I think I love teaching. I think I probably could've taught for another five to ten years. I could always go back. Obviously life changes, right, with financial responsibilities or with family. But there's definitely days — like we said back to the discipline — if there's days where all I'm doing for eight hours is just discipline, I sometimes question my existence and think about how nice it would be to be back in the classroom. I really enjoy working as an administrator and at Dakota Ridge, so who knows? There might be a chance for me to be in a classroom another time, another place, but right now I like where I'm at. 
Q: What college did you graduate from? What was your major?
A: I went to CU Boulder. My major was finance, and my minor was real estate. So two completely different things form education. 
Q: Did you get a degree in education?
A: Yeah. So after I went to Boulder and worked in the industry for a little bit, I went back to school and got my teaching degree at CU Denver. And then ended up getting my administration license through DU. So, a bunch of different schools, but CU Boulder is the important one. 
Q: What did you do between graduating from CU Boulder and going back to school at CU Denver? What was it like?
A: Worked in a commercial real estate company. It was good! It was a lot different than education, right? Back then, it was like 2008- 2010, which was a very tough time for the economy, back to the last recession that we know. Much different work, but I enjoyed the business aspect and the financial side of the stuff.
Q: If you could pick any other job at this school, which one would you pick?
A: I always feel like I've been jealous of PE teachers, and the competitor in me would want to institute some very competitive pickleball games, or dodgeball, or whatever there is like that. I think if I had to try anything — and I know we have some good ones that I could probably learn from — but yeah, probably trying out a PE position would be fun for a couple of days, then I'd probably get sick of that. 
Q: What made you pick PE?
A: It's just different. I was already a classroom teacher — which I know, obviously, there's like Teen Choices that is classroom based — but for the most part, man, I haven't been able to teach a class where I get to go outside and get a little vitamin D, and be up and moving, and in a class that, for the most part, kids get to choose whether or not they take PE. Sometimes kids are forced to take Civics or Biology, so you get kids in your class that don't want to be there. But for the most part, with electives, the students chose to be in your class, so there's a little bit more buy-in, which just makes it easier on the teacher. 
Q: What do you like to do outside of school?
A: I love pickleball, and I like to play golf. I have three young girls, so they sort of run my life. They keep me busy, and usually tired. So, if I'm not hanging out with them or driving them places, then it's either pickleball, golf, or watching my Buffs.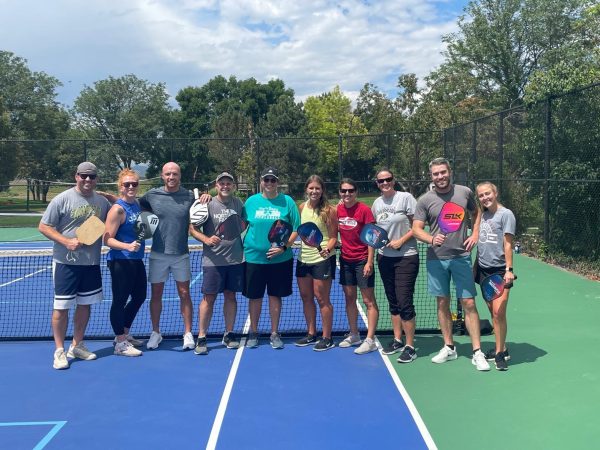 Q: You've mentioned pickleball twice, what do you love about it?
A: It's a fad. Like all things, we'll see if this one sticks around. But it's a good mix of getting some competition, but anyone can play it. So I can go play with my dad, who's obviously a lot older, but the playing field can be leveled because it's not like a tennis court, and you don't have to be super good, like if you've played ping-pong or badminton or obviously tennis, some people are good at it. I think it's just different and new, so it's piqued my interest. 
Q: Going back to your daughters, how old are they?
A: That's a tough question… three, six, and eight. We are in the trenches. 
Q: Are your daughters going to attend Dakota Ridge when they're older?
A: I live out by Park Meadows. I don't live in the neighborhood, but I grew up in the neighborhood, so I didn't want to move back to where I grew up. But, you never know. Right now, I have a kid who loves Dakota Ridge, who wears all the stuff and comes to all the games. And so I think if she had the option, and again if I'm still working here and could take her to school and take her home, I think she would be. But it's always tough when they make their friends in their sort of feeder area, whether it's teams, or clubs, or choirs, or whatnot. Yeah, we'll see! It could be good or bad to have my kids here, but we'll see. 
Q: What is it like having three daughters?
A: Great! Busy. They're all very different, which is fun. They, right now, love their dad, which is good, so that always helps. I can't really do no wrong, which makes it a little bit easier. Having three is fun because they're all sort of different. I have sort of the tomboy/athletic one, and then I have one who loves cheerleading and dancing, and then I got a book nerd who loves to dance and sing. So they all keep me on my toes, but it's nice that they're all diverse at an early age to where I'm doing something different every night really. 
Q: And, finally, what is one interesting fact about you that no one knows?
A: I have a pretty vast collection of Pez dispensers. So I've probably got about 1,100 of those. As a kid, that's when I collected. I don't collect anymore, but my mom, for some reason, every now and then will throw some in my stocking every Christmas, much to the chagrin of my wife. So, I'd say the collection grows slowly, but no, I'm not going out there and looking for Pez. It's more of an old collection. But yeah, if anyone needs any Pez dispensers, I'm their guy.