The Dakota Ridge Screamin' Eagles are known for their music and their flags. But the flags are more than just flags, the flags represent students who work late into the night pushing their bodies and minds to the limit throughout the year. Yet, the Dakota Ridge Color Guard isn't considered a sport by the Colorado High School Activities Association (CHSAA), which has a few feeling underappreciated.
"We just don't get the same respect," sophomore Erin Woodworth said. "The football team is viewed as this cool, amazing team, but if you tell someone about color guard there's a pretty good chance they're gonna be like: 'What's color guard?'"
Color guard is an activity that works closely with the marching band. The band performs the musical part of the performances, whereas the color guard is focused more on the visual aspect. Some members are desperate to be recognized as a sport rather than an instrumental activity. The color guard and marching band have championships like other sports. They use both physical and mental activity, and teamwork is what they are built on. Working together is very noticeable, especially if someone is off-beat. Color guard and winter guard are often mixed up, and it's because they are very similar. The main difference is that the winter guard picks up where the band season leaves off, but with no band. They focus a lot more on the flag and visual aspect of everything, rather than the performance music.
During football games, when the marching band performs during halftime, many leave the stands to get food, claiming it's 'just the marching band'. This creates a feeling of underappreciation for many in the marching band, making them feel like they aren't respected.The color guard certainly works hard to gain respect and recognition. In many cases, they are at practices or performances until 11 p.m. on some school nights. Not only that, but their performances require tossing and spinning flags and fake rifles (which are not allowed in school hallways). The marching band struggles as well, being required to, like the color guard, step in time with everyone else and carry instruments, ranging from light to heavy, control their breathing, and ensure they stay on beat with the steps of the color guard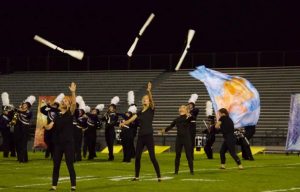 However, while there are people that feel like Dakota's color guard is underappreciated, there are also a few who feel like this isn't the case.
"I think we try really hard to acknowledge them as a group [the color guard and marching band] and as a unit," Mr. Heckel, assistant principal and athletic director of Dakota Ridge, said. 
Heckel says that the reason people leave during the marching band and color guard performance is because they are there to see the football team, not the color guard. If there were color guard specific performances, people would be more likely to sit through the entire performance and avoid leaving for food or drinks, because that is who they are there to see. Mr. Heckel is more than open for discussion on better representation for the marching band and anyone's opinions to discuss.
Like in any argument, there are some who are neutral, too.
"I see both sides," band director Dylan Ford said. "I would just think that because both sides of that equation exist, let's try to focus on the positive side of things." Ford says that people focus on the negative opinions too much, and that the color guard would feel more appreciated if they paid more attention to the positive comments, it would have a positive effect.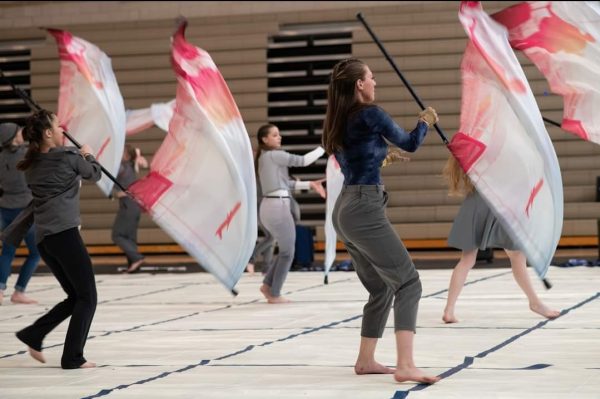 The color guard works hard physically and mentally; they're exhausted after every practice. They bring a very positive energy, even at the championships.
"This is the difference between the football team and marching band," Woodworth said. "When you pass another team, you say: 'Have a great show! Good luck! Good luck! You guys did amazing!' the other team isn't your rival, they're just another band."
Ford has also stated that the band and color guard have a positive and cheerful energy. The color guard and marching band have so much passion for what they do, and they train for hours on end, memorizing how to play a measure, and learning when to step where. Color guard memorizes how many spins to do, when to throw their flag or rifles, and where to step.
If more convincing is needed, winter guard season starts right around the corner. Consider attending a performance, and judge for yourself.