Lily Palmer, a freshman on the Cross Country (XC) team, has made it to the end of a great season, growing and improving every day.
Each week, Palmer has a series of workouts, even as a freshman. On Mondays, she and her whole team workout in the gym and usually do bench presses, back squats, and front squats, along with core exercises. Most days they can run anywhere they want to for 20 minutes. One workout that sticks with Palmer is when they did five or six 600 meter hill sprints. 
"While I run, I sing songs and tell myself I'm almost done, and give myself positive affirmations," Palmer said. 
Before XC, Palmer played other sports that consisted of soccer, track, gymnastics, and dance. All of those sports helped with her muscular and endurance development and they show what kind of a well-rounded athlete she is.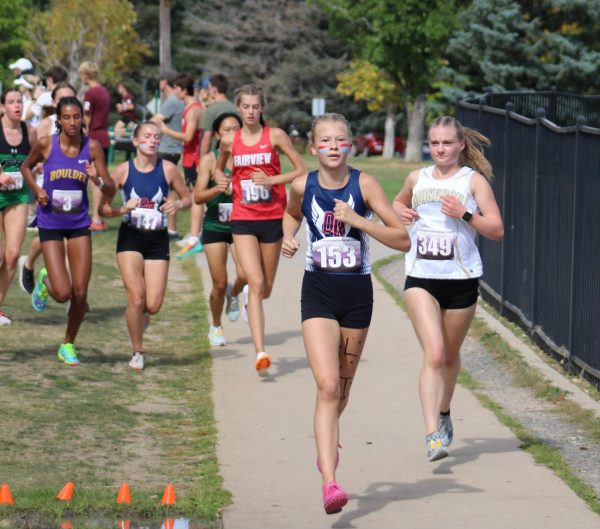 Palmer has been running XC for 4 years now, and that takes hard work and dedication. She runs hard and even travels with her whole team building lifelong friends.
"Getting to travel with the team is very exciting," Palmer said. "We get to team bond, we get to play games, to do tinsel, and braid each other's hair."
In her free time, Palmer loves to travel to all sorts of places such as the Caribbean, Mexico, Puerto Rico, the Bahamas, and Jamaica with her family. Palmer also enjoys hanging out with her friends, although when she takes time off, she misses the sport and being with her teammates, coaches, and being a part of that community.
Lily does plan on participating in XC all throughout high school, and she'd like to continue even at the college she hopes to attend, CU Boulder. To get recruited into CU, she would need to get her lowest time ever, running a 5K reaching a time of 17:17. 
"She doesn't give up. If she has a goal, she sticks to it, and if she wants to beat someone in the race or in practice, she beats them," teammate Emery Bowman said.
Palmer has already accomplished so much as a freshman: she got 4th place in league championships which consisted of 178 runners, and got 10th place at the Pat Patten Race with 207 runners total. She and her team will be taking it to the state finals this year, and she will be there cheering them on.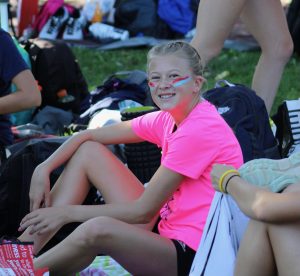 Not only is Lily Palmer a hard working athlete, she is also a diligent student in the academic field and is working on her goal to be valedictorian in the class of 2027. Sports are important, but school does come first, and Palmer definitely meets those requirements and is a distinguished role model. 
"Lily motivates me," teammate Annalise Bollacker said, "to do my best, and helps me meet my goals on the course."