Dakota Ridge volleyball season began towards the end of August with senior Cailey Prashaw as one of the team's strongest players. Prashaw is a setter for the Dakota Ridge volleyball team who has played on varsity since her freshman year. According to Max Preps, Prashaw is ranked in the top 152 in Colorado for assists, and she is in the top 33 for division 5A, and top four in 5A Jeffco. 
Q: When and why did you start playing volleyball? 
Prashaw:  I started playing volleyball in fourth grade because all of my friends were. 
Q: What do you love/ what is your favorite part about volleyball?
Prashaw: I love how the competition pushes you mentally and you are forced to use grit. I also love the volleyball community because you have not just your team but the whole program has your back, and the student section always shows out, which is fun.
Q: What is one of the biggest challenges you have had to face in volleyball?
Prashaw: Having to be mentally tough and not break down over small things. For example, a small thing would be a missed serve, missed pass, or any mistake that can be made on the court.
Q: Is there a coach or athlete you look up to on the Dakota Ridge team?
Prashaw: I look up to Zeman. He not only coaches volleyball but pushes us to grow as human beings, and I appreciate how much he cares about all the girls.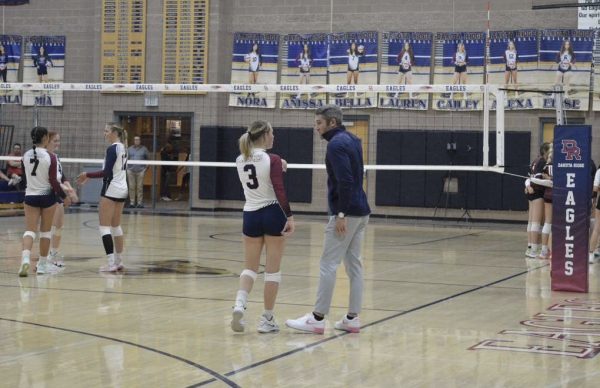 Q: How has Dakota Ridge volleyball done in the past, or since your freshman year?
Prashaw: We were not very good the first two years I was at Dakota, but last year and this year we have gotten a lot better. I think (that is) because these past two years the girls on the team have pushed each other to their full potential, working together as a team. 
Q: What is your favorite part of playing on the Dakota Ridge team?
Prashaw: The family we make from the team. Since we spend more time with the team than we do anyone else, we grow together and experience really hard situations together that build the relationship. I know the girls on the team have my back, and that creates a sisterhood. 
Q: What is your usual pregame ritual?
Prashaw: We listen to music in the locker room and do mosh pits.
Q: Are you considering continuing volleyball in college?
Prashaw: No, I am not, because of back surgeries.
Q: What is the toughest aspect of juggling being an athlete and a student?
Prashaw: Getting enough sleep and getting your homework done because you are constantly busy.