Students and staff are adapting to Dakota Ridge changes within their grading system, schedule, and security this school year, and though relatively new, some of the effects and opinions are already noticable.
One of the most prominent changes to Dakota Ridge this year is the grading system. In previous years the grading system in most classes was based on a 0-100 percentage point scale with a variety of weighting systems in place. This year grades are based on a 50-100 point scale or a 4-point scale.  In addition, teachers are required to weight the grades so that assessments fall within an 80% grade category and classwork/homework makes up the other 20% of student grades.  Both changes were enacted in order to help better students' grades and education.
"The idea behind moving towards standards-based grading with a 4-point scale would be helping students to have a better understanding of their strengths and weaknesses in an area so they can grow," DRHS vice principal Anne Morris said. "For example, instead of talking about getting a specific grade on an essay, a student should be able — based on the feedback through rubrics — to say, 'I'm very strong in critical thinking, but I need extra work on my organization skills.'"
The new grading system is designed to help students think differently about the work they're doing in class. Instead of identifying what letter grade represents them, this system encourages students to consider how they can grow and expand their skills instead.
"I'm not a big fan of grades," English teacher Mark Sherman said. "The metaphor I used in my class is that learning and education has been colonized by the grade book. I think the more emphasis we can pull away from that and put onto just learning in itself, and getting better at a skill, the more a student can get out of the class."
On the other hand, there are some worries about work ethic and whether or not students will complete homework assignments. In the majority of classrooms, homework is graded based on completion rather than accuracy.
"I think that kids are going to try to bypass as many things as they can," math teacher Laurie Lawless said.  "They know that homework is not graded anymore, and so they probably won't do their homework."
Avery Somers, a senior at Dakota Ridge, noted how the new grading system could impact how students see work, adding that the motivation to get a good grade could lessen.
"I try to do my best, but if I know I can get at least a 50, and it's something I hate, and I really don't want to do, sometimes it's just worth it to take a 50," Somers said.
Overall, the general hope and belief is that the grading system will be beneficial for students when it comes to maintaining a passing grade, but some still worry about how the change translates to college preparedness.
"As far as superficial GPA, it'll probably help, but preparing me for the actual workload of college, it won't help," Somers said.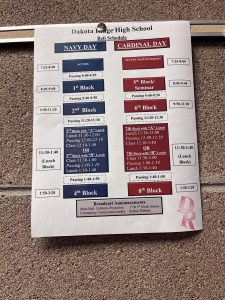 However, some believe that the new system will  greatly benefit students who are planning to attend college. Morris believes that the best way to help a student prepare for college is to help them know what they're good at and what they need to work on, which, she believes, is not accomplished within the traditional grading system.
Sherman says it's all the same.
"An A is still an A, you know?" Sherman said. "I remember having students saying, 'Oh my goodness, I have a 91%, can I get it up?' It's still an A. We're not on a plus-minus system. An A is an A is an A. Students who have gotten A's in the past will still get A's now, students who have gotten B's in the past will still get B's now."
Another important change at Dakota Ridge is the bell schedule. Prior to this year, navy days started at 7:30 a.m. and cardinal days started at 8:15 a.m., both ending at 2:45 p.m. This year, all school days start at 8:05 a.m. and end at 3:20 p.m.
The new schedule was a Jefferson County mandate in order to "align start and end times across all Jeffco schools to create consistency for our schools which enables equitable instruction for all students and increased student achievement," according to the Jeffco Public Schools website.
The new schedule has proven to be controversial due to the late release time. Many students and staff have struggled with the later release because they're left with almost no time at the end of the day.
Jill Prew, an English teacher at Dakota Ridge, explained her struggle with the late release. She, like many other teachers, needs to pick up her own children after school while also managing the lack of after-school care.
"The afternoons, it's just different," Prew said. "I used to be able to get home at 3:45, but now it's 4:45. Just with having four kids, and activities going on and everything, and people needing to be picked up and dropped off, the afternoon really feels a lot more crunched than it did before."
Similarly, students who are working have had difficulties arriving on time and getting enough hours to meet their needs.
"When they told us that last year [the new schedule], my first thought was, I'm going to get less hours at work," Somers said. "When we ended at 2:45, I could at least go home and chill a little bit before the 4 p.m. shift, but now there's only a 40-minute window."
The new schedule also introduced the addition of Talon Time. Talon Time is a 45-minute period for students to get extra help from teachers or for upperclassmen to participate in Passion Sessions. Passion Sessions are times for teachers to share something they are passionate about with students.
Talon Time provided a solution to the ninety-minute Seminar class by providing students with something to do. Most staff and students agree that as long as Talon Time is used correctly, it will benefit students. Previous to Talon Time, Dakota Ridge only had AE before school hours to provide  students with extra support.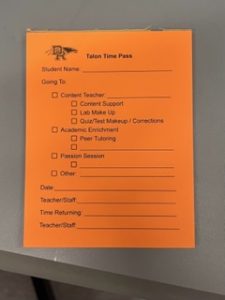 "I prefer Talon Time over AE," DRHS junior Reese Newman said. "I just think it's easier for people to access it because they can't get to school early, or they can't stay after school at all, or if teachers need to get home, or they're not there."
Many people hope to see Talon Time continue at Dakota Ridge, even after this year.
"It's another one of those opportunities for enrichment," Sherman said. "School gets in the way of learning, and things like Talon Time, I think, give students an opportunity to learn something of interest. It gives them that extra opportunity for more time in art, more time in math. It brings in that enrichment process, and it can help take school out of the process and focus on education."
Some staff members, though, are worried that students will take advantage of the time and not be where they're supposed to be, or not utilize the time to get more help. There is also a concern from teachers that this may be too much for them to manage.
"I think we're being asked to multi-task in too many directions during that time," Lawless said. "We're asked to be available as a study hall babysitter, as well as a Talon Time tutor to as many people as come in, and it would be rather difficult to work individually with half a dozen people and monitor a study hall…It's going to be much more demanding, I think, on the teachers."
Security updates were also implemented this year. The security entrance now has a larger desk, a buzz-in system, and an ID check system for anyone who enters the building. These changes were made in response to safety concerns voiced by students, parents, and staff. Some changes, including the buzz-in and new desk, were included because they are considered the new normal in most other schools.
"You look at what all schools are doing, it's just our turn," Sherman said.
Counselor Nile Smith considers the security changes to be a positive.
"It's great that now, for sure, someone is assigned there," Smith said. "It's a very visible piece of protection for the front of our school building…parents just don't get to walk in, no adult just gets to walk in without getting beeped in, then you get to be confronted by the school personnel assigned that you're where you're supposed to be. If not, what are you doing here? I like that. It's safe."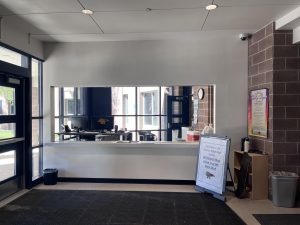 The main priority of this new change is to keep everyone as safe as possible, which can only be accomplished if everyone contributes.
"This is where Deputy Dave wore off on me in a positive way." Smith said. "If we all work together and live 360, we keep the door shut, we don't prop doors open, we don't do stupid things…we keep those front doors locked, we need to be visibly like, 'hey here's my ID' for staff and students alike. I believe that could thwart somebody from just walking inside this building because you can't now."
The changes at Dakota Ridge High School could take more time to adapt to, but each was created with good intentions and a hope to better the school.