Senior Hannah Arnold Scores Her Next Goal at NDSU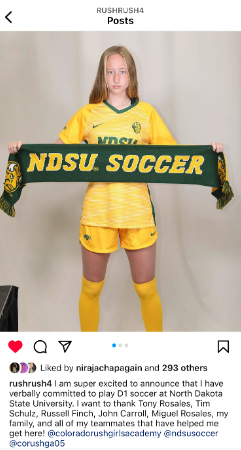 As the school year comes to a close, the Dakota Ridge community will be sending many seniors out into the world to further their academic and athletic careers. One of those seniors, soccer athlete Hannah Arnold, already has her plans set in place. 
Arnold has played soccer since she was eight years old and discovered her love for the sport at the age of 10 or 12. At the end of her junior year, she announced her commitment to division 1 school, North Dakota State University. 
"I chose North Dakota State University because it had the best program, culturally, and the people around were amazing. The only thing bad about it is that it's cold, but that's okay," Arnold said. 
The path to NDSU, like any path for an athlete, did come with its challenges.
"It was not easy. I mean, it took a lot of work to email over 50 coaches every time I had games," Arnold said.
Eventually, though, Arnold's dedication paid off.
"I surrounded myself with good players and coaches that promised to help me get to where I wanted to be," Arnold said.
Arnold has been at Dakota Ridge all four years and has been a part of the community her whole life. 
"One of my favorite memories with Hannah was when we chased her chinchilla into an open space in her basement, and then we spent the next hour and a half trying to get it out before her mom found out. The same day she introduced me to "High School Musical" because I wasn't allowed to watch it at my house," senior Manoah Collier said.
Another one of her friends, who has known her since middle school, adds, "Hannah is just simply the best. I would say that she has a very caring personality and is really fun to be around," senior Jasmine Huynh said.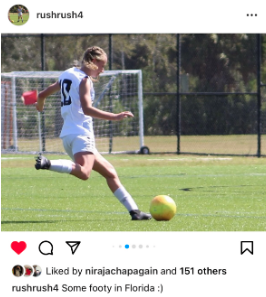 Arnold not only excels athletically, but also academically. She has taken several AP and honors classes throughout middle school and high school. She constantly works to keep her grades at A's, even when she is out of town for a soccer tournament. Currently she stands with a 4.3 cumulative GPA. 
Arnold has played club soccer for Colorado Rush most of her life, but this year is her first year playing high school soccer. Throughout this year, Arnold has scored eight goals in eight games and has helped lead the Dakota Ridge High school team to an overall record of 7-1, with three wins in league. 
"It taught me life lessons that I would probably have to learn the hard way," Arnold said, "and it introduced me to a bunch of people that I probably wouldn't be friends with otherwise."