Dakota Ridge SRO Earns Jeffco Sheriff's Employee of The Year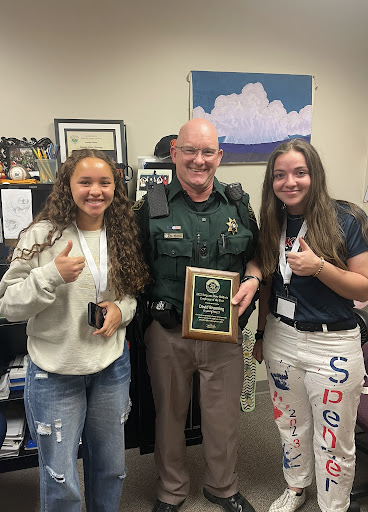 Deputy Dave Bruening has had one of the greatest impacts on every student that walks through Dakota Ridge High School. With his unfiltered personality, he never fails to bring a smile to those around him. Bruening works hard in his position and earned the recent employee of the year award for the Jefferson County sheriff's office.
This award was very special for Bruening to earn because it's a legacy award for  sergeant Dave Baldwin who passed away on highway 93 doing traffic stops. Bruening knew the officer and worked close to him. Bruening says it's an honor to have earned this award.
"This is who I am, uniform or not. I try to be honest with you guys. You guys are paying attention, you know what's happening. I think a lot of adults don't understand teenagers and how you guys think and work, and you kinda almost forget that we were all in high school one time, and things go on," Bruening said.
Bruening tries to get on level with all of his students, making sure that everyone at Dakota Ridge feels comfortable enough to confide in him in any situation. 
"He's so pro-kids. It's enjoyable from an administrative perspective to be able to talk with him on incidents that we might have or any kind of reports we get or anything," Kim Keller, DRHS principal, said. "He brings a very good perspective from the law enforcement world that the school might not necessarily see, and another thing is he keeps us so safe, I feel so good with him." 
He knew that he wanted to be an SRO at Dakota Ridge High School, as he knew the last SRO, Michelle Lucero, who was here — she always talked to him about what a great place Dakota Ridge is. Lurcero was the SRO at Dakota Ridge for 13 years before Bruening came along. When the opportunity arose, Bruening was able to sit with her and get a feeling of the entire school before he even applied for the job.
"It was a perfect storm. I had the perfect opportunity. I was lucky enough to get the spot, and here I am," Bruening said.
Bruening works to gain the students' trust at Dakota Ridge and does this by being himself. He finds that the most important part of his job is the relationship that he has with all of the students. By establishing this trust with the students, Bruening knows that in a dire situation students will feel comfortable enough to approach him and share hard things going on in their lives.
"The relationship I have with you guys is number one. That is all the students, the valedictorian down to the lowest kid. I think that the relationship that I have with you guys and the trust that we all have (is most important)," Bruening said.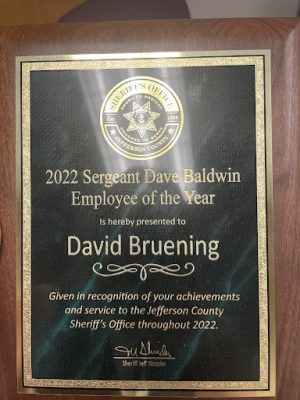 When finding out that he had earned the Employee Of The Year award, Bruening wanted to keep it a secret and not tell anyone. His wife called Keller and told her about the award, and then soon enough it blew up over social media platforms. 
"I do this because I like hanging out with you guys. I don't need a gold star or recognition," Bruening said.
Breuning also finds that staying away from the electronic world helps to strengthen himself as an SRO because electronic communication often causes things to be misconstrued. He prefers talking to people in person to foster open communication.
He thrives in places where the students of Dakota Ridge are.
"I've seen you since you were freshmen, and I see you now, 28 days until you walk away, and that's inspiring. You don't see it when you're a freshman — it goes by so quickly. The student body inspires me — even on the bad days," Bruening said.
If Bruening could travel anywhere in the world, he would go to Alaska; he finds it interesting because it's part of the United States. His favorite animal is a rhino because, although they are extinct, they are still tough and sensitive. He is an Aries, and his favorite party trick is playing darts!
If you see Deputy Dave in the halls, make sure to thank him for all that he does for the Dakota Ridge family.