Mens Basketball Wraps Up A Strong Season In The Great 8
The Dakota Ridge boys basketball team advanced to the great 8 with high hopes due to the recent success they had seen in their 2022-2023 season but unfortunately couldn't withhold the momentum. The Eagles lost their final game 65-55 against Mesa Ridge on Thursday March 2nd.
Unfortunately for the Eagles, they had a slow start and missed 12 of their first 17 shots, and by the end of the game only made 18 of the 43 shots they had taken. Dakota also had 17 turnovers by the end of the game. 
Credit should be given where it is due: Mesa Ridge senior, Bryce Reihl, had six steals on Dakota and scored about half of the Grizzlies' points. However, the Eagles did accomplish scoring over 50 points on the team when only six other teams had done that before them. 
Dakota had been down by half the amount of points most of the game, but senior Steffen Schattinger helped pick up the pace in the 2nd quarter when he hit the first three-pointer for Dakota. By the end of the game, senior Alex Rodriguez had scored 15 of Dakota's points with sophomore Ethan Bernigner trailing behind with 11 of the Eagle's points. 
This game had a bittersweet ending to it as most of the varsity players are seniors. Senior players got subbed off in the final moments of the game as they made their way down the players' bench hugging each of their teammates because they knew that this would be the end.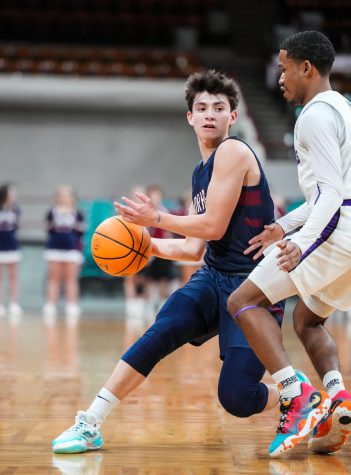 Some of those seniors shared their final thoughts about the game and their experiences playing with the team.
What was the hardest part of your final game?
"The hardest part of the final game was knowing this was my last time on the court with my teammates who I've been playing with since elementary school and I've grown really close to," senior Steffen Schattinger said. 

"The hardest part of my final game was getting subbed out for the last time and hugging my coaches and teammates," senior Trevor Fuller said.

"The hardest part of our final game was definitely knowing when we lost that it would be my last basketball game ever. To hand up the shoes in a sport you have played for over 10 years is a very hard thing to do," senior Cole Holloway said. 
How do you think you are going to use your high school basketball experience throughout your future?
"One experience I can use from our season in my future is to never give up on what you've worked hard on, " Isaac Pullig said. 

"Basketball in general has helped me to get into uncomfortable situations, like when I went to camps or something, where I didn't know anyone," Fuller said. 

"I've learned how to persevere through hard times playing basketball because even after a few losses I learned to stay up and still try my best, which will help me in the future when I have a job and a family," Schattinger said. 
What is something you are proud of your team for?
"I'm proud of our team for coming all this way and winning league for our school and for the seniors who showed up to our games," Pullig said. 

"I'm proud of my team for all working together for one common goal and never giving up," Fuller said. 

"I'm proud of the outcome of our season, but I'm even more proud of the men and individuals we have grown to be," Holloway said.