College Campus Safety Tips
Late on the evening of November 12 at The Univeristy of Idaho off campus housing, four students were murdered. Ethan Chaplin, 20 years old, Madison Mogen, 21 years old, Xana Kemodie, 20 years old, and Kaylee Goncalves, 21 years old. The investigation is still currently ongoing, and therefore we do not yet know all the details of every event that occurred late that evening. Bryan Kohberger, 28 years old, is currently on trial for these campus murders.
According to ABC News, from what the police know, the killer entered the off campus housing of 6 roommates and killed 4 out of the 6. Kohberger is believed to have entered through an unlocked door and killed the victims with a knife.
Campus safety is obviously critical, especially on people's minds now that it is getting close to the end of second semester, and this year's seniors are preparing for college. The circumstances of this terrible crime are very rare; however, there were many precautions these students could have taken. None of the doors to their three story house were locked, something that is a vital piece of information to take to college with you. Make sure you lock everything.
"Truly the most important thing is to be aware of your surroundings at all times. You never know what could happen if you're not paying attention,"  DRHS resource officer Deputy Dave said. "Try to travel with at least one other person. As long as you do that, it's more likely that at least one of you may catch something that the others might not have seen." 
Senior, Kayla Dominguez Paris has a few hesitations about going off to college after the murders. 
"I'm honestly pretty scared, but I know that there are college police departments at most schools. It just makes me think about all the precautions I could take before I go to school" Paris said. 
Senior Izzy Lockhart agrees.
"I mean, yes, I think it has impacted everyone's view on going to school because it's a whole new group of people that are all new and don't know each other," Lockhart said.
Senior student at the University of Arizona, Alexis Apodaca, had a few scary campus experiences herself.
"I've been followed, taken pictures of, and have had to call 9-1-1 once for witnessing sex trafficking. One time a gunman came into a building I was at class in and killed a professor. It does get really scary sometimes, but that is real life, just be aware and you can stay safe," Apodaca said.  "I would say just to be so careful, be wary and super aware of your surroundings and trust your gut. College is supposed to be fun, too, so don't let the crazy people and fear ruin it for you." 
According to scholarships.com, at CU Boulder there have been no murders committed in recent history on campus. Anticipatory anxiety is very common for everyone, but it is always important to remember that the chances of tragedy occurring are very low. Just be aware of everything going on around you.
Many DRHS seniors will head off to CU Boulder next year. Colorado University campus police department public information officer, Christine Mahoney, says campus safety is a priority.
"We do absolutely everything in our power to keep students safe. Here at CU, we have a three tiered police department and are always on patrol," Mahoney said. "Generally, the buddy system is always a good idea. On campus here we have something called night ride, it's like free Uber and you can call someone for a ride at any time of the night. We also have the guardian app to let anyone you have in the app know where you are going and can track you."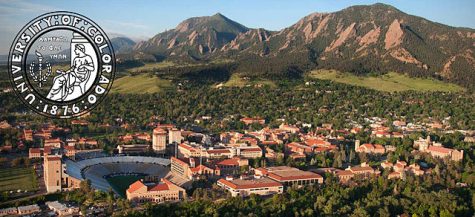 Other tips provided on the CU Crime Prevention safety site include:
Always use the buddy system

Lock your bike correctly

Never leave your valuables out in the open

Be an effective bystander

Close and lock doors and windows as a preventative measure
Colleges, in general, value safety, and most have programs, just like CU does, that ensure student safety. While there are lessons to be learned from the tragedy in Idaho, it is also important to look into your school's safety plan. If you see something, say something.