Women's March Commemorates the 50th Anniversary of Roe v. Wade
The National Women's March on Madison, Wisconsin, and around the country, took place on Sunday, January 22. This march commemorates the 50th anniversary of the instatement of the landmark Supreme Court case Roe v. Wade in 1973. 
Women's March states, as the purpose of this demonstration,  "We are not going gently. We are taking our fight to every state in this country on January 22, 2023. We are putting all politicians on notice: If you come for our families, our freedoms, or our future, we are coming for your seat. Our movement is strong. Our movement is growing. Our movement is bigger than Roe."
 This message resonated with a multitude of people here in Colorado with nearly 200 attending the march. One young protester, thirteen year-old Piper Neureiter, reflected saying, "I think it is really important to stand up for myself and like all of my peers and stand up for what's right."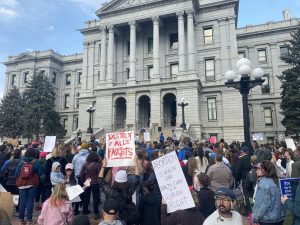 Ever since the threat of overturning Roe v. Wade emerged in May 2022, there have been demonstrations nationwide, and locally at the Colorado State Capitol, run by Women's March and other organizations such as Color Latina, and Cobalt. These organizations have been fighting to protect reproductive healthcare in Colorado since Roe v. Wade was overturned, which resulted in the Reproductive Health Equity Act of 2022 being put into Colorado state law. 
The demonstration began with speeches by Colorado representatives Meg Froelich, Regina English, Eliza Hamrick, and Jennifer Parenti. These speeches regard how important the right to reproductive healthcare is to these representatives and what they have been up to to secure this right in Colorado. The importance of voting was also an emphasized subject in these speeches. 
After these speeches, the march around Capitol Hill began with chants like, "Not the Church. Not the State. The people must decide their fate!" and "We are unstoppable! Another world is possible!"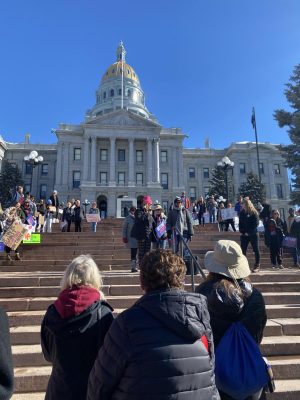 There were many people of different ages, races, and genders at this demonstration who were all passionate about women's rights and reproductive justice for many different reasons. However, there were no counter protesters representing the other side of this divisive issue. 
 One young man, fourteen year-old James Kennedy, shared his reason for marching was "Because we need to fight for women's rights —as a gender we can't keep taking their rights. It's not fair." 
Overall, while this march was much smaller than previous demonstrations in Colorado, it goes to show that women and young people in Colorado will continue supporting the right to reproductive healthcare around the nation.