Back to the 90's With a 10 Things I Hate About You Review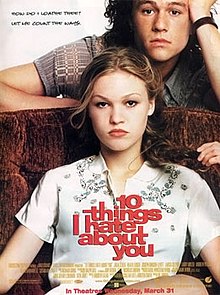 Although 10 Things I Hate About You was released in 1999, many high school students today are still in love with the movie and reference it in everyday life. This movie offers a more realistic view of the high school experience than many others of its time, while still including some unrealistic aspects here and there. Director Gil Junger could not have done a better job in the casting of the movie, as I could not imagine anybody else doing such a phenomenal job as all the actors did, specifically actress Julia Stiles who played main character Kat Stratford.
The movie begins with new kid Cameron James taking a particular interest in popular sophomore Bianca Stratford. But when his new friend Michael clues Cameron in that Bianca is not allowed to date until her older sister dates, Cameron begins to think of ways around this rule.  That's when Cameron initiates a plan to set Bianca's sister Kat up with anyone who will date her. But in order to get someone to date Kat, Cameron needs money to pay the potential suitor.  Conveniently, shallow, rich-boy Joey Donner is vying for Bianca's attention as well.
With Cameron's plan in motion, they discover highly feared student Patrick Verona who was willing to accept money from Joey to take Kat on dates. Kat was not exactly a willing participant in this exchange, and Patrick was struggling to find success when trying to get a date with Kat. With pressures from Bianca placed on Kat to find somebody to date so that she, herself, could date, and a small part of Kat beginning to like Patrick, Kat finally agreed to go on a date with him. After hanging out a few times after that, Kat begins to fall for Patrick, and Bianca is juggling both Joey and Cameron. Tensions peak on Prom night when Bianca ends things with Joey, and he reveals to Kat that all of this was a set-up so Bianca was able to date, and Patrick was not as genuine as she once thought. Cameron and Bianca are going well, but Patrick must work hard to prove to Kat that his feelings for her became very real and he did not care about the money.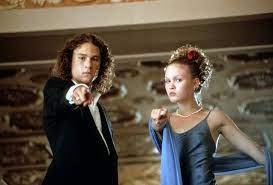 Overall I would rate this movie a 5 out of 5, as I do not believe it could have gotten any better than it was. By far my favorite part of the movie was a little while after Kat (Julia Stiles) finds out about Patrick's ulterior motives in taking her out and reveals her true feelings about Patrick. This is an iconic scene, and I could recite the dialogue at any point in time. The raw emotions Stiles displays in her role as Kat makes the movie 10 times better, and while this movie would have been good without her, it is astonishingly better with her. 
While the main audience of this movie may be intended to be teens, I see myself, as well as many others, loving this movie forever. This is my go-to movie, as it has some of its emotional moments, but it is also funny and keeps my attention. 
10 Things I Hate About You received a 71% Rotten Tomatoes rating. While there were many iconic movies released in the 90's, I would argue that this is the best of them all. I've heard many of my friends refer to this as their comfort movie, and I, too, am in that boat.