Senior Players Say Goodbye to High School Football
The Dakota Ridge Eagles ended last year's season with a record of 11-1. This year they ended with a record of 6-6. Though the season was cut short due to the loss against Loveland, with a score of 21-35 on Friday November 11th, many players have bright futures ahead of them.
 "I think we had great senior leadership this season.  They were a group who led by example on and off the field.  They did not let the team fall apart when things started to get hard, and they kept grinding to the finish," head coach Ron Woitalewicz (Woj) said.
Football isn't just a game to many of these student athletes. It is their lives. Many of them view their teammates and coaches as family. Most of them spend all four years of their high school careers dedicating their time to grow as a person on and off the field, each player helping each other test their limits.
"Something I'll miss is being in the same place at the same time as 80 of my family members," senior Tyson Smith, who plans to play college football at Chadron State in Nebraska, said.
Though they started the season 0-2, the Eagles were able to pull through and win the next two games after that. They then lost the next two, won, then lost one, and finally finished out with three wins in a row before the Loveland game.
Seniors were devastated by this loss as this meant the last high school game for 15 seniors.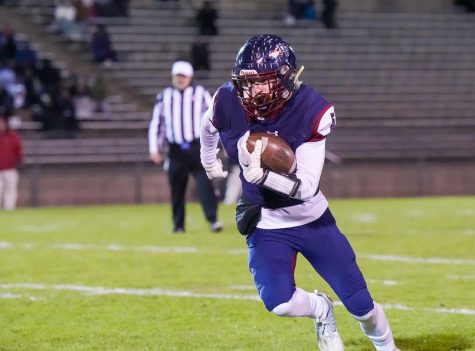 "It goes by fast and you hear it all the time, but you don't truly believe it until that final whistle," Smith said. 
Each game leadership was never lacking — seniors led the team to victories and they led them through the tough losses. Whether there was a crowd to support them or not, the Eagles fought hard to make sure their season was as good as it could've been. 
"(I'll miss) being able to have a whole school support you and be behind you and how great it really was to play with some of my best friends throughout the years," senior Noah Triplett said.
Coach Woj, who holds a special place in most, if not all of the players' hearts, has continuously shown great leadership to many of these young men. He shared his thoughts on his graduating players:
"Noah Triplett was such a warrior for us all season.  Playing through injuries and soreness and refusing to let it keep him down.  A true competitor," Coach Woj said. "Matthew Keagy-Peraza just being an all around great kid on the field, in the classroom, and in the community.  Great leadership skills and everybody loved him.  Jack Rons just being so dominant on the line of scrimmage and playing with every ounce of heart he had each week."
Football is home to so many student athletes — it is a family, a brotherhood, and a place where these athletes and coaches can learn together while being themselves.
"Work hard and have a team first mentality," Triplett said. "We before me."