Taylor Swift Switches It Up By Dropping Her New Album Midnights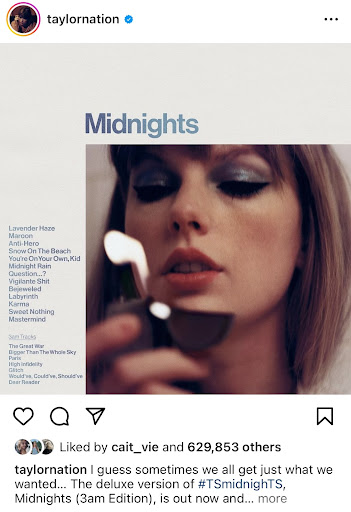 Taylor Swift released her new album Midnights on October 21, 2022, already taking the best selling album of 2022. 
The album took over the top 10 spots on Billboard Hot 100 during the week of November 5, 2022. This breaks a record for the first artist who has claimed all 10 spots at once. 
Midnights is one of Taylor Swift's more unique albums, coming after her Folklore and Evermore more alternative albums. Midnights came out as a pop album following her Reputation album. 
This album is completely different from work Swift has done in the past – showing her growth that she is now a different person.
Though many claim that Swift's album was not some of her best work, I disagree. After Swift released multiple albums singing sad songs about failed relationships, which people had a problem with as well, she now has an album that shows her healing and becoming a new person. Midnights demonstrates that she is testing her abilities and growing as an artist as she was able to incorporate forward lyrics that create a story for her streamers to follow along with. 
It is well known that Swift has gone through many breakups in her life which is what inspires most of her lyrics, but this album doesn't exemplify the sad parts of a heartbreak, it shows the revenge era after a breakup instead. Midnights illustrates the journey of finding happiness in herself – not through boys.
This album shined on Swift's growth as an artist, produced based solely on herself and how she's grown through certain situations. 
Her growth was especially shown as Swift obtained a record deal with Big Machine Records when she first started her career in 2005. Swift joined Universal's Republic Records later that year. The masters, or original recordings of the songs that a musician records while working with a music company, typically belong to those companies. And Big Machine Records actually carried out this act. Big Machine Records controlled all six of Taylor Swift's debut albums (Taylor Swift, Fearless, Speak Now, Red, 1989, and Reputation) before she switched record companies. Swift had always wanted to own her own music, and doing her own re-releasing of those six albums accomplished that perfectly. Swift has released Fearless (Taylor's version) and Red (Taylor's version), and the other four are yet to come!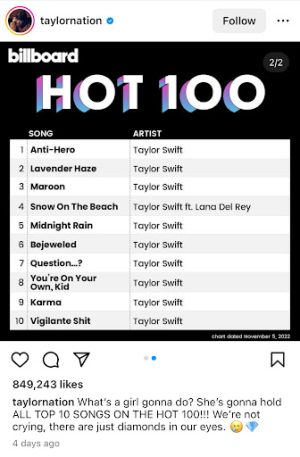 "I think this album adds more depth about her as a person and makes her relatable in a lot of ways because she's exposing her difficulties that kept her up at night. That's very human and very raw. She exposes that she is not just some huge pop star but also a human," senior Caitren Vie said. 
Swift didn't just stop at releasing her 13 track album — at 3 a.m on the night of October 21, she released four more songs creating Midnight's 3 a.m. edition. 
The album consists of a mix of unique lyrics that tell a story in vulnerable songs like "Bigger Than The Whole Sky, " the story of a miscarriage that pulls on anyone's heart strings. This album also helps to highlight Swift's growth through her life, producing songs like "Karma," "Anti-Hero," and "Sweet Nothing."
My own ranking of Swift's songs consists of "Karma," "Bejeweled," and "Would've, Could've, Should've." Swift did an exceptional job of bringing in other songs like "You're on Your Own Kid," "Midnight Rain," and "The Great War."
While some believe that Swift has cheap writing skills, this album once again proves them wrong. Each of her songs tells a different story, leaving the listeners to interpret them in their own ways.
One prime example of her advanced writing skills, Swift adds in lyrics to her song "Would've, Could've, Should've" including, "Living for the thrill of hitting you where it hurts / Give me back my girlhood, it was mine first." This song heavily correlates with one of her exes, John Mayer, who dated Swift when she was only 19 and he was 32. This lyric is a well known favorite among many Swift fans.
Another great example of this correlation between her songs is shown by some of my favorites, "Would've, Could've, Should've" and "August" as she sings, "Living for the thrill of hitting you where it hurts" in "Would've, Could've, Should've" and then "And then canceled my plans / Just in case you'd call / Back when I was Living for the hope of it all" in "August." This correlation helps to show the change in Swift's attitude as she used to live waiting around for one to call, but now she lives for herself (revenge, too, as Swift does obviously!).
Soon after producing her album, Swift announced on November 1, 2022 that she will be going on an "Eras Tour," singing songs from each of her albums. Swift's last stadium tour was in 2018.
Remember when Swift was hijacked by Kanye? Looks like karma worked out.