Jeffco Raises Teacher Salaries for 2022-2023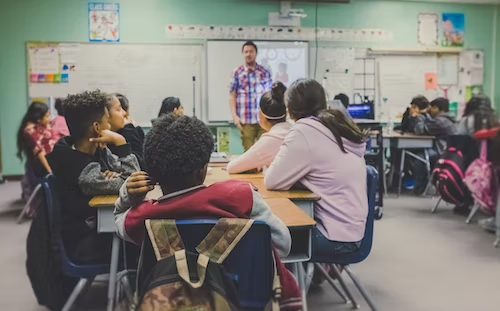 With the 2022-2023 school year starting, students are still trying to bounce back from what was lost during COVID-19, and with that, there is a necessity for hiring and retaining highly qualified teachers who will foster learning in and out of the classroom. While teachers are working hard to fill the gaps that students missed, Jeffco is becoming more competitive to get those hard-working teachers into our district.
In an article for Chalkbeat, Christine Wiggins, a spokesperson for the Jefferson County Education Association that represents teachers and special service providers, said she "believes the agreement will help Jeffco be competitive within the Denver metro area where teachers have many options."
However, considering this salary increase and whether or not it's effective, it's helpful to examine living and teacher education expenses in general. If a new teacher had just graduated from CU Boulder, for example, they might have spent roughly $100K and many are not able to afford that, so they would have to obtain a loan which adds additional expenses. According to Fox Business, it would take roughly 13 to 20 years to pay a $100k loan.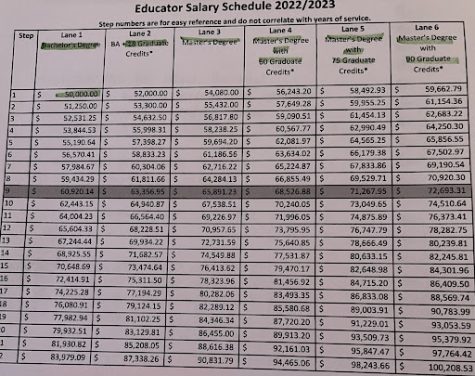 The average cost of living in Colorado per year is $46,642, which leaves most starting teachers in Colorado living uncomfortably based on their starting salary. While teachers are not only responsible to pay for their home, they also have to pay their bills and buy groceries, while also still paying off their college loan. In addition to those general living expenses, according to the 2022 Teacher Spending Study, the average teacher will spend around $560 out-of-pocket money on their classrooms, and one in four teachers say that they will spend roughly $750 of their own money during the 2022-23 school year. 
The average teacher salary in Denver, Colorado is $56,833, while the average teacher salary in Boulder, Colorado is $57,570, making the salary increase in Jeffco still uncompetitive compared to other counties, when trying to draw in more teachers. 
Another factor to consider in this salary review is that "Colorado teachers earn almost 36% less than other workers with college degrees, the widest such gap in the nation and a full 3 percentage points worse than the next closest state, Virginia," according to Chalkbeat Colorado.
Many teachers also say they work beyond their contracted hours of 7 a.m.-3 p.m, and most spend their weekends grading and planning for classes. 
But the salary increases do make a difference.  Michael Dougherty, assistant principal at Dakota Ridge, points out that, "Dakota Ridge is unique in the fact that we have one of the more veteran teaching staffs in the district. Veteran teachers that are close to retirement can especially use pay raises to increase their 'Highest Average Salary' through PERA, which will impact their retirement funds," Dougherty said. "As we start to see more and more retirements, we know our teaching pool applicants can often be saturated with young adults. Jeffco increasing first year teacher pay exponentially will definitely impact the quality of great teachers we can bring into DRHS for the long term."
Dougherty also points out that though teachers do not join the field just for the money, it would still be a good change to see industry salaries grow at the same rate as other professions. 
With this change, Jeffco hopes to welcome more teachers into the county. According to Dougherty, though, Jeffco is still catching up to other districts like Aurora, Denver, Cherry Creek and Boulder. Although Jeffco has surpassed  districts such as Douglas County in teacher pay.
"I think we have already greatly benefitted from the last couple years of raises. If you look at most of our new staff hired in the last two years, 75% are from neighboring districts that pay less," Doughtery said.
This pay raise brings great change, but patience is needed from many. While the United States of America is going through a high inflation time, it is hard to get the pay to those who most deserve it.
While teachers put in many hours of dedication to their classrooms, they only get paid for the basic 8 hour work schedule. As this pay change is a step in the right direction, there is still much improvement needed for our teachers.