Avocado Chicken Pasta Salad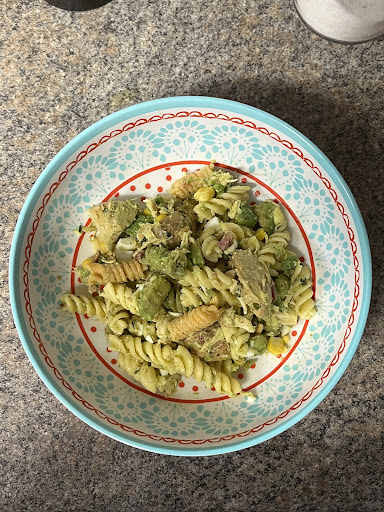 For my family of seven, food has played a big role in bonding my family as well as our family friends. Meals are usually prepared by my mom and they are filled with delicious flavor. On the weekdays we eat dinner at the table every night, and on the weekends we eat not only dinner but sometimes breakfast and lunch together too. The time we spend eating is a time that our family gets to sit down and catch up before we are back to our busy schedules. The dining room is one of the most valuable places in our household; it is a place that we spend most of our days, and it is rich with memories and family fun.
One of our family favorites, is this chicken and pasta dish that can be served cold or room temperature. The dish includes well seasoned chicken, yummy pasta, ripe avocados, crisp fresh corn, crunchy bacon, and a light lemon vinaigrette. This quick weeknight dinner/ light lunch can be made anytime of year and is easy, inexpensive, and healthy.
This meal will cost about $15-$20 to make for a family of 5, with leftovers. If you are making for 2-3 people, cut recipe ingredients in half. If you plan to make a meal for 8-10 people, double ingredients. Depending on the number of people this may or may not change the overall price. 
Approximate calories per serving would be 732 calories. Serving size is about 2 cups per person. 
Ingredients:
Boneless skinless Chicken Breast- 1 pound. Cost: $6-8 or you can substitute a rotisserie chicken for $5

1 pound of dry pasta, any kind of pasta that you prefer. Cost: $0.99-1.80

A cup of fresh corn (Frozen corn thawed)- $0.99-1.50

3-4 small avocados ripe- $3-4

3-4 hard boiled eggs chopped- a dozen eggs is $1.80

6 slices of cooked bacon chopped up- (we buy pre cooked chopped bacon pieces in a package)$4.00
Dressing ingredients:
⅓ cup olive oil

⅓ cup lemon juice

1 tablespoon of dried chives or finely chopped green onion

Salt and pepper to taste (put an amount of salt and pepper to your liking)
Step by Step instructions:
Parts of the meal can be made a day before, such as the chicken and eggs, if you want to.
Prepare the chicken, if you buy chicken breasts.

Salt and pepper the chicken to your liking.

Preheat the oven to 400 degrees.

Put chicken on a baking sheet.

Bake chicken for 30 minutes.

Remove when done and let rest for 10 minutes.

Then chop into bite sized pieces.

Set aside chicken.

If you buy rotisserie chicken, shred and set aside.

While the chicken is baking, get a large pot.

 Fill with 6-8 cups of water.

 Put pot on the stove and bring to boil

 When boiling begins, put 2 teaspoons of salt into water.

 Then add pasta. (Boil at recommended time on the box of pasta.

When done, drain and rinse pasta under cold water until pasta is room temperature.

Make sure corn is thawed at room temperature. (You can run under cold water until corn is thawed)

Next take a pot and carefully place eggs in the pot

Add cold water with an inch above eggs. 

Put on the stove and bring to a boil. 

Once boiling, turn the burner off, put a lid on the pot and let sit for 8-10 minutes. 

Drain after 8-10 minutes and place eggs in a bowl of ice cold water, let set for 5-10 minutes, this makes peeling easier.

After 5-10 minutes, crack and peel each egg, then chop into small pieces. Set aside. 

Peel/ skin each avocado.

Split them in half.

Pit them.

Chop avocados into bite sized pieces. Set aside.

If you have bacon slices, chop into pieces.

Dressing:

Pour olive oil into a mixing bowl

Add in lemon juice while whisking.

Add an amount of salt and pepper to your liking. 

Add green onions or chives still while whisking. Mix thoroughly. Set aside.

Combine all ingredients into a large bowl and stir.

Then whisk dressing one more time, pour on a little at a time onto ingredients, mix, and then repeat until all dressing is gone and salad is mixed thoroughly. 

Serve.
Side ideas could include: French bread or breadsticks