Dakota Ridge Spring Season Update
The 2021-2022 spring season is in progress including Women's Soccer, Track & Field, Women's Lacrosse, Men's Lacrosse, Women's Golf, Women's Tennis, and Baseball. The season officially ends in May.
So far Women's soccer is 4-3, Women's lacrosse is 3-2, Men's lacrosse is 5-1, and Baseball is 5-6. This season has already brought some big moments to the students of Dakota Ridge High School, and many teams have seen great improvements from last year. 
"It seems like every game has had great highlights so far. We've beat every team by 4+ points, with an average of 15 goals a game. So it's hard to pick out a select few that are "the best,"' junior lacrosse athlete Colin Smith said. "But I think the biggest highlight of our season is beating a high school named La Jolla Country Day High School in California. This school is our equivalent to someone like Valor." 
Students and parents have eagerly anticipated this upcoming season because they no longer have to wear masks while spectating. For athletes, masks aren't required on the sideline or while playing. During last year's spring season, spectator restrictions were enforced due to Covid. However, since this school year started, restrictions have been lifted — athletes and spectators are back to their "normal" lifestyles.
"Our season is going great, the team has bonded very well… I want all of us to have a ring on our finger at the end of the season," junior lacrosse athlete Jacob Cunningham said.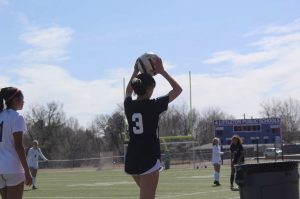 Though each sport is striving to be the best team in the league, many athletes say there is always room to grow and improve no matter what level they're at. Motivation from last year has seemed to step up,and athletes are working harder than ever to achieve team goals and their own goals. 
"Our season is going well, but I think there is a lot more room to grow to unlock our full potential," junior baseball athlete Joshua Ezell said.
A few of the Dakota Ridge teams participate in giving a player of the game or MVP. Women's soccer gives a player of the match each game and women's lacrosse does an MVP; this is a positive way to recognize a player's outstanding performance. Here at Dakota Ridge, the environment that each sport creates is vital to an athlete's mindset. 
"Coach Demi has really changed this program for the better by bringing in girls from other schools, who have never played, who have played for a while, and just changing it for the better," sophomore lacrosse athlete Hannah Galbreath said. 
Many athletes and parents have been pleased with the performances that have occurred and have received good feedback about our programs here at Dakota. "Highlights are just beginning, but I am excited on how our teams competed and behaved out of state," Athletic Director Matt Heckel said.  "Dakota Ridge has high expectations that our teams, athletes, and staff represent our school correctly. Everything I have heard has been positive."