Dakota Ridge Hosts Annual Think Pink Game
Dakota Ridge High School recently hosted their 14th annual Think Pink basketball game to raise awareness and money for breast cancer. It was a double header for Dakota Ridge basketball with both the women and men facing off against Columbine High School. The games took place on February 18th, and although the Dakota women's team lost, the men won, and many other significant goals were achieved with packed stands on both the Columbine and Dakota sides and pink shirts covering the stands. 
In preparing for the big game, student government, the organizers of the game, "Reached out to multiple different companies for donations, and reached out to some of our past honorees to see if they will be attending again this year," senior class president Lena Henshaw said. 
Student government also sold Think Pink shirts throughout the week before the game to raise money for breast cancer. There were many preparations made for the game, and Dakota students were frequently encouraged to attend the game. Some teachers even offered extra credit for those in attendance.
"It is important to attend the game because so many people in the community have been impacted or have known someone who had cancer or breast cancer, and I think this game is really special and does a really good job of honoring people who have been affected by breast cancer," Henshaw said. 
Many students who have not attended other basketball games chose to go to this game because of the strong rivalry between Columbine and Dakota, and it is for a good cause.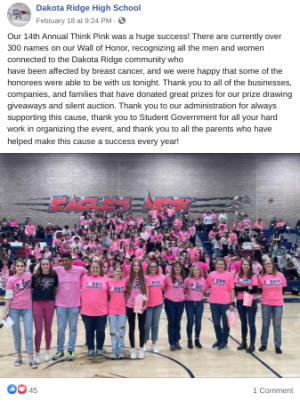 "I chose to attend the Think Pink game because I wanted to support both a good cause and the basketball team. The game is meaningful to me because it is able to represent the growing support there is in schools for the cure of breast cancer," sophomore Rhys Mallory said. 
According to the Centers for Disease Control and Prevention (CDC), in the United States each year, around 255,000 cases of breast cancer are diagnosed in women and about 2,300 in men. About 42,500 people in the U.S. die from breast cancer each year. 
"Raising awareness for something that has affected so many people is important because many students have mothers or grandmothers that have gone through breast cancer, and it's a great representation of unity when everyone comes together to raise money and support each other," women's basketball team player Emma Murphy said. 
The Think Pink game has been a tradition for many years at Dakota Ridge High School. It is a game where students can support a cause that affects all of them in different ways, and schools can band together to raise money by competing on the court. Dakota Ridge basketball plans to continue the tradition for years to come.