Give the Best to the Best
The Olympics is a tradition that has been around for over 3,000 years where the best athletes in the world compete against one another to be deemed the best in the world at their given sport. These athletes dedicate their lives to their sport in hopes to stand on top of the gold medal podium. The best athletes in the world deserve to be treated as such, so why has there been a number of reports from Olympic athletes complaining about their treatment?
Recent reports have come from the athletes competing at the 2022 Beijing Olympics complaining of insufficient living conditions in China. According to Forbes, representatives from countries have been complaining about poor conditions for quarantine athletes, media suppression, and harsh isolation rules. Finland's Marko Anttila, a member of the men's hockey team, has made complaints of "not getting enough food" while in quarantine following a positive Covid-19 test. 
These are the best athletes in the world and should be receiving the same treatment as they do back home, if not better. Front Office Sports reports that China has spent around $8.8 billion on the Beijing Winter Olympics, and with all of this money, why are there still complaints coming in on the treatment of athletes? These athletes are expected to perform their best at the Olympics, but how can they do this when they do not have the proper nutrition? 
Olympic athletes are placed under immense pressure from their countries to perform to the best of their abilities and bring home as many medals as they can. They have also experienced bad treatment in the past. With Larry Nassar there was a lot of negligence surrounding the case for years as gymnasts continually made reports of sexual misconduct, but Nassar was still able to continue working as the Olympic Team Doctor. Nassar was charged in 2015 but worked for 15 years as the team doctor before that. According to USA Today, Nassar abused hundreds of women, including gold medalists Simone Biles,  Aly Raisman, McKayla Maroney, Gabby Douglas, Jordyn Wieber and Madicon Kocian.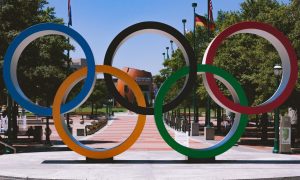 Olympic athletes are just trying to represent their country on the Olympic stage, and they deserve to be treated properly so they can do the best in their competition. These athletes dedicate their lives to this, and yes there is pressure and stress that they will have to deal with, but not being fed enough, and being sexually assaulted by adults they are supposed to trust, should not be a part of the stress they have. 
Social media has become an outlet for Olympians to share their experiences and bring attention to the poor treatment they have received. Athletes are able to expose the truths behind the Olympics and show not only the good parts but also the bad. With this changing social climate, the Olympics need to do better, and countries need to ensure that their athletes are being treated properly. We can no longer expect athletes to just deal with poor treatment, and it is the world's job to make sure that these athletes are heard.