Denver's Best Art Exhibit Yet!
Denver's newest interactive walk-through, Meow Wolf-Convergence Station, is one of Colorado's best art exhibits yet. With over 70 installations and over 300 artists (130+ from Colorado), Convergence Station is truly a unique experience with an unexpected storyline that immerses you into an individual, quirky world unlike any other.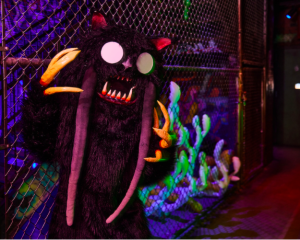 How you choose to experience the exhibit is fully up to you. Choosing your own path is one of the main qualities of MeowWolf and why it is considered so unique compared to other exhibits. 
You can either choose to simply view the art or pay an extra $3.00 at the information counter on the main level for a Q-Pass, a card used throughout the museum to interact with the "ATM" kiosks and other interesting and secretive parts throughout Convergence Station.
If you choose to explore the deeper meaning of Convergence Station, be willing to spend six or more hours to fully understand the storyline. There are many side stories, "mems," and characters that you will have to look for throughout the 90,000 square-feet, four-story building. It can be very challenging and frustrating, so be prepared.
There are four main rooms, including C-Station, Ossuary, Eemia, and Numina. C-Station became my favorite, with lots of unique art and interesting shops. 
Some of the most memorable shops I found most intriguing included "Pizza Pals Playzone," an underground pizza play place with interesting statues and hidden posters, "Heam," a movie theater with a robot attendant and an actual theater that shows short films, and the "Salawn," an '80s themed beauty shop with interesting knick-knacks and a salon chair with short, psychedelic-like clips inside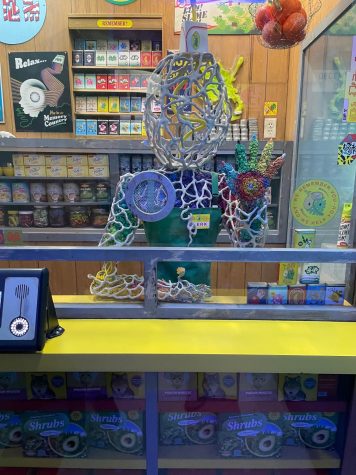 the hairdryer.
Overall, there is much to explore with incredibly tiny details that can be easy to miss the first time you walk around. MeowWolf makes sure that every piece is crucial and interactive in some way so that their audience is never bored.
I spent over 4 hours in Convergence Station and found out there were still many rooms that I had missed and many details I had overlooked.
Meow Wolf-Convergence Station is like an escape room with an unlimited amount of time to explore the deeper wonders of the world and enjoy the unique sculptures, paintings, and random objects hidden throughout the building. 
If you plan on staying to really explore and would like the full experience, I would recommend coming as early as possible on a week day. Once you are in, there is no time constraint on when you need to leave, which means it will become packed as the day goes on, and will become almost impossible to get to everything and hear the important details needed for the storyline. 
Although I was not able to fully experience the exhibit, I would still recommend it to anyone who enjoys out-of-the-box art styles or solving mysteries. There are so many unique styles that fit well together to create a story unlike any other. The details put into the installations are mind-blowing and being there is a once-in-a-lifetime experience.