"Dear Evan Hansen" Leaves an Impact on Viewers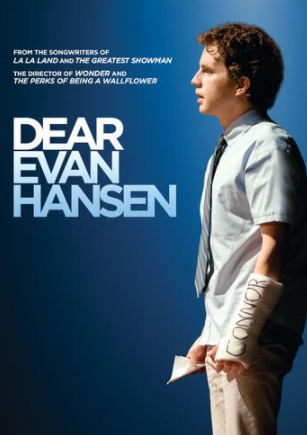 The film "Dear Evan Hansen," directed by Stephen Chbosky, and written by Steven Levenson, is a coming-of-age musical film derived from a Broadway play. This film focuses on the life of 17 year old Evan Hansen, and how he navigates life while dealing with severe anxiety and depression.
When doing an assignment from his therapist, Evan Hansen has to write a note to himself beginning with, "Dear Evan Hansen." In his letter to himself, Evan writes about his everyday struggles with mental illness, and Zoe Murphy, a girl he is beginning to like. In the library, Connor Murphy signs Evan's cast because he sees it is empty and says they can pretend to have friends. Evan has printed off his letter to himself, but Connor gets to it before Evan can and sees his sister Zoe's name. Easily aggravated by the letter, Connor takes it and leaves the library. 
A few days later, Connor's parents come to the school requesting to see Evan. Evan goes to the office, and Connor's parents tell him that Connor has died by suicide, and they found the note Connor took from Evan in his pocket.  But the parents assumed it was Connor's suicide note. They also see Connor's signature on Evan's cast and immediately assume Connor and Evan were best friends.  Evan doesn't want to make them even sadder, so he goes along with it. Evan gets so lost in the lie, and he becomes part of the Murphy family as they mourn the loss of Connor. Throughout the film, this lie spirals out of control. But will it catch up to Evan, or will he be able to continue lying to the world about knowing Connor?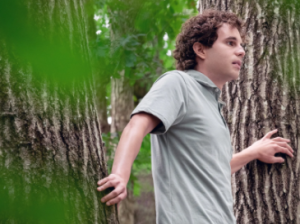 Opinions about the film have been mixed, with many people questioning the casting of the movie with 28 year old Ben Platt who plays 17 year old Evan. 
Mixed signals about people's opinions of the movie are being sent, with "Dear Evan Hansen" receiving a 30% Rotten Tomatoes rating, but receiving an audience rating on Google of a 4 out of 5,
along with glowing reviews. 
This movie is worth the watch, but just understand what you're walking into. The film is a musical, so there are many different songs incorporated into it.  The  film deals with issues like suicide and mental illness. With a run time of 2 hours and 17 minutes, and a rating of PG-13, this movie leaves a strong impact.