Cocoa Cram — A Warm Way to Study for Finals
Looking for some extra people to study with for finals? The Cocoa Cram might have you covered.
The Cocoa Cram is a study session exclusively for freshmen to prepare for different subjects such as language arts, math, history, etc.
The main goal of the Cocoa Cram is to provide students with the opportunity to study for finals while also enjoying complimentary hot cocoa.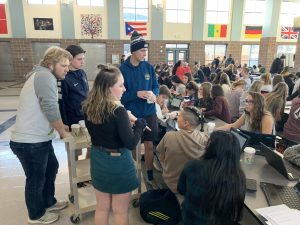 The event will be held on Wednesday, December 15, from 2:30 p.m. – 5:30 p.m. in the cafeteria.
The team behind the Cocoa Cram is the Link Crew who also ran freshman orientation in August.
The Link Crew is a club run by juniors, seniors, and teachers to prepare freshmen for their first year of high school.
Jessica Koehler, an English teacher at DRHS, organizes the event. Koehler encourages participants "to be ready to study and maintain good behavior."
Freshmen attending the event will be chaperoned by junior and senior members of the Link Crew. 
If you're interested, just show up and, as Koehler says, "be respectful and drink hot cocoa."