Running Back Noah Triplett Keeps His Balance
Football player Noah Triplett, currently on the road to the state championship, is determined.  Not only determined to succeed in the playoffs, but determined to find a balance to succeed in academics too.
Noah is a top ranked running back in Colorado and around the nation. According to Prep Red Zone and Max Preps, Triplett has 24 touchdowns this season and an average of 7.1 rushing yards. 
With Dakota Ridge being the number two seed in CHSSA (Colorado High School Sports Association) 4A division for playoffs, there are still goals to be accomplished. They've had a first round bye in the playoffs as well. 
"You can't think about the state if you haven't been there," Triplett said. "We are trying to go 1-0 every week now."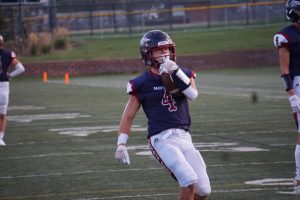 Even though Triplett will play again next year, he wants to win the state championship this year. 
"I'm hoping the future holds an opportunity to play at the next level, but right now I'm focusing on what I can do to be a better teammate. We aren't done with this year, so I'm trying to live in the present and get better every day,"  Triplett said.
Noah's weekly life is no different than an average student, but his take on school work might be quite different from other athletes.  Academics do affect an athlete's future.  If they do not have a certain grade point average, or if they are ineligible to play in high school, it affects the ability to play in college later.
¨I do lift after practice almost every day,¨ Triplett said. "School work is a huge thing of being a student athlete here, you have to keep your grades up or you won't play or even get into schools you like or would have a chance to play at." 
For now, Noah needs to keep his body healthy for the rest of the season. He is continuing his stride for constant improvement as well as staying healthy to have the opportunity to compete next year.