The Curious Incident of the Controversial Winter Play
Evan Donelson prepares for a highly scrutinized lead role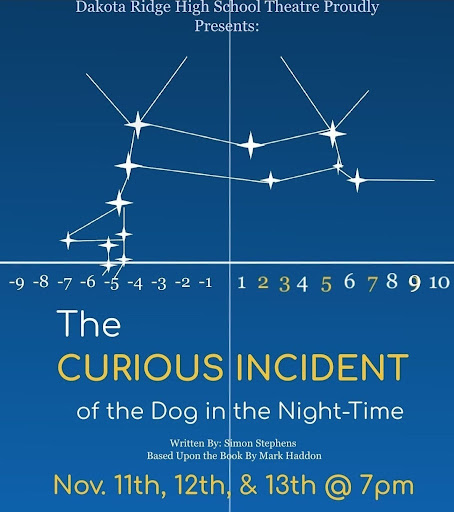 "Does that mean I can do anything, Siobhan? Does that mean I can do anything?" Evan finishes strong as the stage lights die down to a blackout. The lights come back up as the scene breaks, and Evan goes into an extensive explanation of a math equation before the rehearsal finally finishes. The act drops and everyone takes a deep breath in as the tension finally fades. Evan returns to his usual demeanor, congratulating everyone on a hard day's work. 
Having been with the Dakota Ridge theatre department since freshman year, Evan Donelson is no stranger to bright lights, blocking, memorization of lines, and standing in front of an audience. Whether it's an ensemble role or the center of the story, Evan has shown he can do it all. 
Coming off of a successful fall production of Leaving Iowa, Evan and the rest of the department began to prepare for the upcoming winter show, The Curious Incident of the Dog in the Night-Time. The show is about Christopher Boone as he tries to figure out the mystery of who murdered his neighbor's dog, while simultaneously uncovering secrets about his own family's past. 
As soon as it was announced that the Dakota Ridge theatre department would be producing Curious Incident, Evan wanted to understand the show as best as he could. He watched a production of the show to get a feel for it and was left in tears. "I knew this was going to be a special show, and I wanted to be a part of it, no matter what part I got." Evan had his sights set on Christopher, though. He knew he would love to have that role and that he would be willing to put in the work to portray him.
It was not going to be a small feat, as Christopher is on the autism spectrum.
The idea of having an actor who doesn't have autism play a character who does raised some eyebrows ("which can mean a lot of different things," according to Christopher). Could it be seen as offensive? However, even before the cast list was out, the department wanted to make sure that they gave the utmost respect to the character and all those on the spectrum. Even now, they continue to maintain that air of respect in every decision they make.
Perhaps unsurprisingly, Evan was cast as Christopher. Alongside a few veterans of the department and a handful of brand-new faces, the nine-person cast of the show was more than ready to proceed at full force to put on the best possible show they could. With director James Young once again spearheading the production, along with DRHS senior and assistant director, Marcus Phillips, the building blocks of another stellar production were set in place. 
Now it was time to start building.
As soon as Evan was cast, he knew he wanted to make sure his portrayal was as accurate as possible. "I looked up the ways people who are on the spectrum (more specifically those like Christopher) would act and what their tendencies would be. After that, I bought a copy of the book and started reading so I could get into Christopher's head."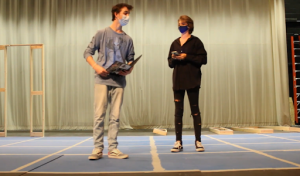 Evan even started watching a show on Netflix called Atypical about someone around Christopher's age who is also on the spectrum (the show had an autism consultant on the set, similar to what the theatre department did in the form of Ms. Amanda Bell). Evan also read the autism section of the DSM 4, or "The Diagnostic and Statistical Manual of Mental Disorders," a book describing several disorders using simple language. On top of all that research, Evan observed a few people he knew on the autism spectrum to inspire elements of his role.
The entire Curious Incident cast was more than ready to accept the challenge alongside Evan. Along the way, relationships were built, and chemistry came easier between the actors. Evan even took the time to organize a "retreat" for he and his castmates at the Southwest Plaza Mall for this exact purpose. In just a few hours of being together, the cast of students from all grades grew closer. Sharing a Chipotle meal and worries about the show with each other, the cast felt more than ready to tackle the challenge together. Evan leads the show, but he also led a small group of disparate high school students towards each other, guiding the creation of many new friendships.
In that sense, Evan is very much like Christopher. Inspiring those around him to look at something in a new way and be the best version of themselves.
The rehearsals flew by, Evan making sure he memorized the script as fast as he could so he could focus on perfecting Christopher's actions rather than stumbling over half-memorized lines. Not only that, but he memorized most of the lines of his castmates, providing aid when the time to be off book hit the other cast members full force. Don't worry, though. Everyone is set to be perfectly ready by the time opening night arrives on the 11th.
With only a little over two weeks until the production was set to open, Evan appeared for an interview on the Dakota Ridge video news source, The Ridge Review. Providing eloquent and well thought out answers to the questions he was asked, Evan acknowledged the fact that he was in a precarious position considering the buzz about him portraying a character with autism. 
However, with only a few rehearsals left, Evan and the rest of the cast needed to prepare for a few adjustments.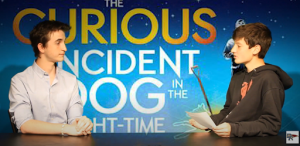 In the wake of the interview, a few concerned members of the community made it known to both Mr. Young and the school board that they felt Christopher needed to be "toned down" and replaced to be lower on the spectrum to not offend anyone. With the reputation of the theatre department on the line, the Curious Incident team agreed. 
"I worked with Mr. Young about what those changes might become and the fine tuning of it all, but it definitely was bittersweet. Especially since I had taken so much time for [Christopher] to be one way, but it definitely wasn't in vain, and it still is in effect," Evan said. He states that his preparation hasn't changed as much outside of the rehearsal time, but he has been watching more Atypical to broaden his scope. 
For a little bit, the growing pains could be seen between the original version of the show and the updated version. However, very quickly, Evan was able to settle into a comfortable happy medium and continue to develop Christopher.
With the show a week from opening, the bumps of the process have made the end result that is just within reach that much sweeter. Evan also acknowledges that some people may still be wary of how the team handled Christopher.
"Nowadays we think of representation and how important it is, because it is. And that's why I took this role and did the work and am still doing work. It's because this show is beyond just a play or a script. This show is showing that people with ASD or some sort of other form of a disorder can do anything no matter what issues lie in the way, which is something we as a society, sadly, kind of prevent. We say, 'you can do this, but you can't do that,' and in some cases it makes sense. But in others it just holds people back. And I just hope that all of you reading this right now, who maybe haven't read the book or seen the play, come and be a part of this experience, because I promise you, it is not one you will regret being part of."
With all the trials and tribulations that Evan has gone through with this role, it's plain to see that he can tackle any issue set before him.
Just like Christopher.
The Curious Incident of the Dog in the Night-Time opens on November 11th and runs through the 13th. Tickets can be purchased via the following link: https://www.onthestage.tickets/show/dakota-ridge-high-school/the-curious-incident-of-the-dog-in-the-nighttime-80710
The Ridge Review featuring Evan's interview can be found here: https://youtu.be/MzS2lxzVGE8