DRHS Teacher Strives to Help the Lives of Ugandan Students
Many students did not even get to see math teacher David Purcell last year because it was his first year teaching here and he was remote. This year, however, he is making strides at DRHS with Far Away Friends and Chess and Go Club.
"This year it's been very warm and inviting," Purcell said.
Purcell is an involved teacher at DRHS with these club responsibilities.
"I'm a little tired," Purcell said, "and I've been achieving some really great plans, but I've been busy, so I'm a little tired."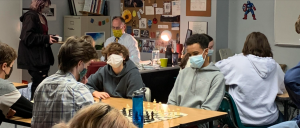 The Chess and Go Club will be competing in state competitions. "If anything, go (go chess club) is kinda my passion," Purcell said.
The club will be competing in the Denver Chess League, and new members are always welcome to join and play regardless of how experienced they are.
"When I get to play (chess) it's like leaving the world behind," Purcell said.
Other than Chess and Go Club, Purcell runs the Far Away Friends club. Far Away Friends is a nonprofit organization that works to provide education to schools in Uganda. According to the Far Away Friends website, "We partner with high impact local leaders to improve access to education and equip kids in rural Uganda with the resources they need to break cycles of poverty forever."  There is a donation page at the top right of the website where you can donate.
Far Away Friends raises money for a sister school in Uganda from donations. This month the club revealed which sister school DRHS will be supporting, along with some pictures of the school. The club promotes awareness by sponsoring teacher challenges to earn donation money. The school can use this money to help improve the education of Ugandan students.
This month will sponsor the hot wing challenge, where teachers who participate in the challenge will be eating wings covered with spicy hot sauce that is from the series "Hot Ones." Hot Ones is an interview show in which an interviewer will talk to influencers while providing hot sauce that progressively gets spicier as the interview continues. Instead of asking questions, a few teachers will just eat wings with hot sauce.
Far Away friends is one of the main focuses of Purcell at DRHS, and he works hard to get donations often. Last month, over $100 was raised for our Uganda sister school. The club will go all year and new members are always welcome. If you would like to join, you can go to ST228 after school every Wednesday.
Both the Chess and Go Club and Far Away Friends meet on a weekly basis. Far Away Friends meets on Tuesdays and Chess and Go Club meets on Wednesdays in ST228. Both go from 3:15 pm to 4:30 pm.