Warren Tech South — The New Campus In Town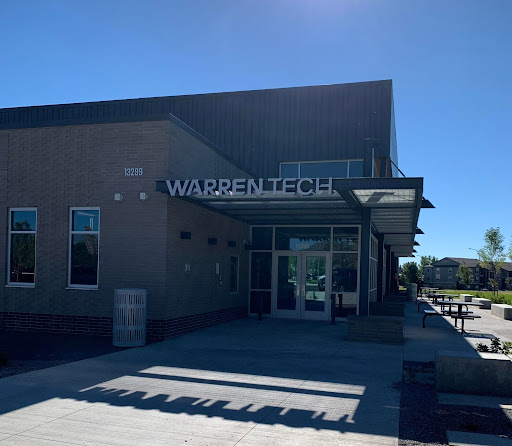 Teachers, students, and parents gathered for the official ribbon cutting ceremony for Warren Tech's third campus, Warren Tech South, on Friday September 24. 
Warren Tech offers six programs including aviation, the first of its kind.  The building was funded by a $10 million grant from Jeffco voters in 2018 and became a reality as an up-and-running school this fall.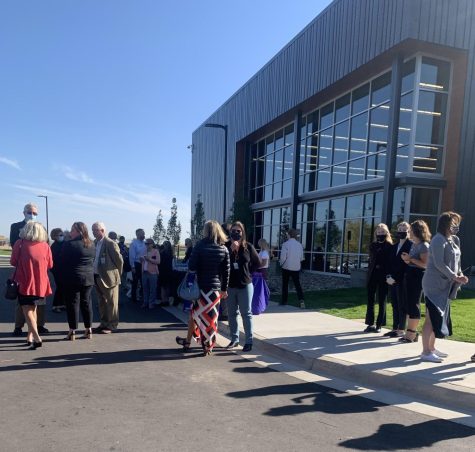 Gathering at the ceremony, teachers conversed as students enrolled in the Warren Tech programs used their Warren Tech skills for the event. Audio and visual production students set up the sound system and cameras, event planning students stationed themselves at tables giving out gift bags and greeting guests, and even the culinary students made their own contribution by  making sweets and treats that were handed out.
"I'm excited to be a part of something new and special," instructional coach Sophia Rodriguez said. "I've never experienced anything like this." 
Warren Tech is still a new and accelerated program that brings real world experiences to students that they wouldn't learn in the classroom. Anyone from Jeffco can apply to Warren Tech.  The programs include students  from various backgrounds and experiences. 
"They come together with a common love," Rodriguez said.
It isn't all smooth sailing though. Rodriguez mentioned that, with the pandemic, some of the equipment has been delayed, and students and staff had to work without it.
Rodriguez said she is proud of the students for getting through these tough times, though.  "It taught resilience," Rodriguez said.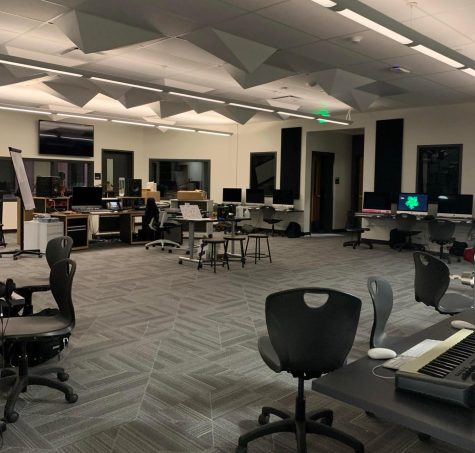 The pandemic affected all aspects of the building of Warren Tech South as its construction started once the pandemic hit. The whole thing was trial and error. Not only was it built during a pandemic, but it was built right next to a bustling high school.
The building was constructed in the one and only Dakota Ridge High School's backyard, or more specifically, the back parking lot. Many Dakota students have gotten very familiar with the construction of the building — some upset by the loss of half their parking lot.  
Lukas Knoll is one of several students from Dakota Ridge that also attends Warren Tech South. Knoll, a junior at DRHS,  is a part of the resort and event management program and has only positive thoughts about his experience. He was found standing tall and prominent near the booths at the ceremony as he helped accommodate and plan the ribbon cutting ceremony, experiencing what he learns in the classroom first hand. Knoll also shared the benefits of having both campuses so close.  Without a car, and all other Warren Tech campuses at least 30 minutes away, the convenient location makes his dream possible. 
This location doesn't just affect Dakota kids, it affects all Jeffco students in the area by providing a significantly shorter commute to the new campus, making dreams come true for many students.
Despite the loss of half of the Dakota Ridge parking lot, the benefits seem to have taken over for most students — they barely notice a difference anymore. 
As for the Warren Tech staff, most say they are grateful that Dakota Ridge shared its space for the new building.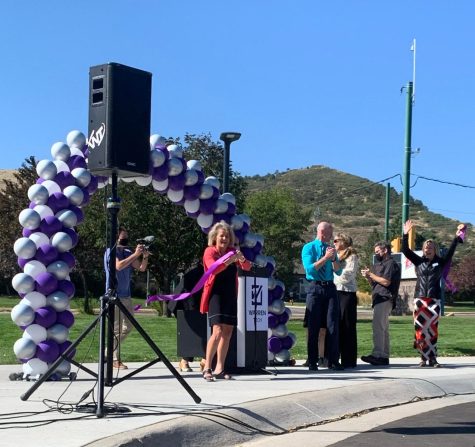 "It had been a dream for years," Warren Tech South principal Heather Keeton said, "and we're seeing it as a reality everyday with these students."
Warren Tech South is tangible proof of Jeffco's ambitions and innovations in education. The new building is a milestone in the diversity and furthering of education for all individuals, and a ribbon cutting ceremony was barely enough to truly celebrate its accomplishments. But with the cutting of the ribbon, the cheers of the audience and staff, and most importantly the opening of the campus, Warren Tech is here to stay and set the future for education.